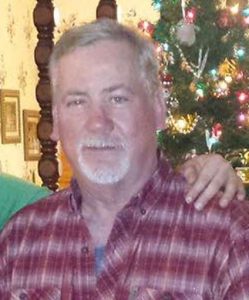 Mark Currington, 59, of La Marque passed away Monday, August 19, 2019 in Texas City.  He was born April 5, 1960 in Galveston to James and Florence Currington.
Mark was a resident of La Marque, a graduate of La Marque High School Class of 1978 and a graduate of U of H in 1984 with a Bachelor's Degree in Business.  He was a member of First United Methodist Church of La Marque and IBEW.
Those of you, who knew him well, knew of his health struggles in recent years. However his friends and family will also remember his better times.  He had a boisterous laugh and friendly nature.  Mark loved hunting, fishing, his 55 Chevy and all his years of riding motorcycles.  He was a former member of the San Jacinto High Rollers along with some of his family.
He is preceded in death by his mother Florence Currington.  Mark is survived by his father James Currington, daughter Shelly Currington, son Weston Currington, mother of his children Susan Currington, brothers Cord Currington and Kevin Currington and his two grandchildren Caden Moore and Addalyn Moore.
A visitation will be from 6:00pm-8:00pm on Friday, August 23, 2019 at the James Crowder Funeral Home in La Marque.  Funeral service will be 11:00am on Saturday, August 24, 2019 at the James Crowder Funeral Home in La Marque with Rev. Richard Prather officiating.