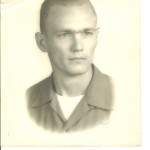 Marion Wallis Schellhase, 84, passed on February 14, 2014, in Houston, Texas. He was born on January 23, 1930 in Wallis, Texas to Albert and Katie Schellhase. Marion is survived by his: sons, James, Stephen, and John; brothers, Olfert, Ernst, and Warren; preceded by his brother James; grandchildren, Melissa, Lindsay, Robert, Sydney, and Thomas; and numerous family members and friends.
When his country called, Marion answered joining the U.S. Army serving from 1951 to 1953. As a civilian he worked for The Boeing Company in Renton, Washington, and Slidell, Louisiana and The Lockheed Company in Houston, Texas. At Lockeed, he worked on the Space Craft simulation during the Apollo, Skylab and Space Shuttle programs. Marion had a passion for electronics and automobile repair and loved to spend time with his grandchildren and friends.
A Memorial Service will be held on Saturday, February 22, 2014 at 10:00 AM at Crowder Funeral Home – Webster with a reception to follow. Interment will take place on Wednesday, February 26, 2014 at 10:15 AM at Houston National Cemetery, 10410 Veterans Memorial Drive, Houston, Texas 77038.