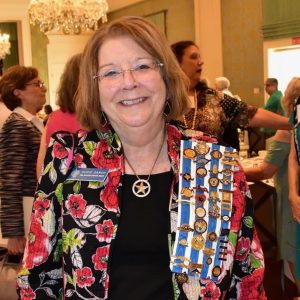 Marilyn "Susie" Atkinson Dunham Ganch passed away March 27, 2023 in Clear Lake, TX . She was born on October 5, 1948, to John Joseph and Mamie Elizabeth Atkinson.  She was blessed with a large extended and loving family.
A native Houstonian, Susie grew up in Houston where she graduated from Spring Branch High School in 1967.   She then attended the University of Texas at Austin where she graduated with a BA in English and Journalism in 1971.  She married John Spofford Dunham in July 1971 and worked at the UT Housing and Food Service in accounting while her husband went to Graduate Business School.  They then moved to Houston to pursue their careers.  Susie worked as an administrator for Urology Clinic of Houston for 30 years before retiring in 2013.  She had an article published in Chicken Soup for the Christian Soul as well as other publications.  She also wrote a book on her Ward/Habersham ancestry, which was published by Amazon.
She was blessed with a beautiful daughter, Elizabeth Anne, born September 16, 1980.  She was always the light of her mother's heart.  After her husband's death, Susie married Allan Nicholas Ganch in 1997 and inherited a son, Nicholas.  Susie, Allan and Elizabeth made their home in the Clear Lake area. Her daughter Elizabeth, married Philip Cromartie and gave them two wonderful grandsons, Kade and Kole Cromartie, who were the sunshine of their lives.  Susie enjoyed outings and field trips with her grandsons and just spending time with them.  Susie's stepson Nicholas married Christina Tomlinson in Annapolis, Maryland and gave her a grandson, Alexander Ganch.
As a descendant of several Revolutionary War Patriots, Susie was proud to belong to the Daughters of the American Revolution, Sam Houston Chapter, where she served as their Regent from 2012-2014 and Chaplain 2018-2020.  She remained active in DAR as well as United Daughters of the Confederacy.  She received many awards for her support of Literacy, Veteran Aid, Active Military Support and Americanism. She loved researching her genealogy and held several offices in Bay Area Genealogical Society.  She was also a faithful servant of God and a member of St. Thomas Episcopal Church in Nassau Bay and served in the St. Brigid Chapter of the Order of the Daughters of the King.  She was an avid reader, loved travelling, especially to historically significant places.  She and her husband, Allan traveled internationally to Paris, France, Munich, Germany, Vienna, Austria, Budapest, Hungary, Montreal and Quebec City.  They also travelled extensively in the United States.
Susie was preceded in death by her father, John Joseph Atkinson and her mother, Mamie Elizabeth Watson Atkinson, her first husband John Dunham, her second husband Allan Ganch, her sister Sylvia Atkinson Johnson, her brother, John Raymond Atkinson and her brother-in-law Eric Johnson.
Remaining to cherish her memory are her daughter, Elizabeth Anne Dunham Cromartie and her husband Philip Cromartie; her grandchildren, Kade and Kole Cromartie and Alex Ganch, Her step son-in-law, Nicholas Ganch and his wife, Christina.  Also surviving is her sister-in-law, Katherine Atkinson and numerous cousins, nieces and nephews.