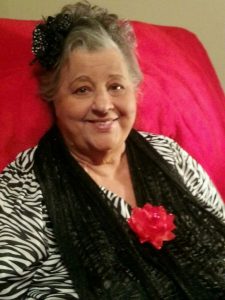 Marilyn Joyce York, 77, a 41-year resident of Santa Fe, TX formerly of Silsbee, TX passed away February 20, 2017. Mrs. York was born August 10, 1939 in Kountze, TX.
Mrs. York worked for Santa Fe cleaners for many years and attended Pentecostals of Santa Fe where she taught Sunday school.
Mrs. York is preceded in death by her husband Willis Clinton York; father Floyd Bouse; brothers: Bobby Bouse and Jimmy Bouse.
She leaves behind her daughters: Lois York, Mae Campbell, Carolyn Clark, husband Richard, Hannah York and Christy Callaway; sons: Clinton York and Pete Callaway; grandchildren: Rebecca McKnight, Crystal Vela, Anthony Clark, Matthew Clark, Timothy Clark, Clayton Clark, Tabbatha Callaway, Brittany Callaway, Jenny Orcutt, Joshua Medina, Joseph Medina, Jessica Medina, Tiffany Daniel and Alexis Callaway; numerous great grandchildren; special friends of the family: Teresa and Glenn Schanzer, Mike Perez and Delores Ramsey and family. Also good friends at Pentecostals of Santa Fe.
Family would like to thank Sacred Heart EMS of Wharton.
Pallbearers will be: Richard Clark, Matthew Clark, Anthony Clark, Timothy Clark, Clayton Clark and Clint McKnight.
A visitation will be held from 5pm to 8pm Thursday, February 23, 2017 at Crowder Funeral Home in Dickinson, 851 FM 517 Rd W Dickinson, TX 77539. Service will be Friday, February 24, 2017 at 12pm at Pentecostals of Santa Fe 12811 FM 1764 Rd Santa Fe, TX 77510. Burial to follow at Grace Memorial Park Cemetery. Officiants: Rev. Matt Clark, Rev. Tommy Custer and Rev. Lavelle Jeane.