Marilyn Jean Johnston Griffith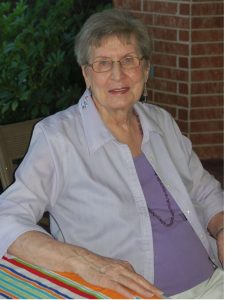 Marilyn Jean Johnston Griffith, formerly of Huntsville, Alabama, passed away March 16, 2022, in Clear Lake, Texas (Houston area) where she had relocated in recent years to be near family.  Marilyn was born May 23, 1928, in Addison, Michigan, to parents, James and Audrey Johnston.  She was pre-deceased by her husband of 57 years, William Griffith, and her grandson, Foster Griffith.  Marilyn is survived by three sons, Robert Griffith (Janet Rae), Thomas Griffith, and Scott Griffith (Janet Leah); Four grandchildren, Matthew Griffith, Tyler Griffith (Julie), Claire Land (Ben), and Zachary Griffith; and four great grandchildren, Evelyn Land, Cameron Griffith, Foster Land, and Sienna Griffith.
She was a long-time, active member of Trinity Presbyterian Church in Huntsville, Alabama and later enjoyed church activities with family in League City, Texas.  Marilyn enjoyed gardening, reading, playing bridge and seeing her family grow and flourish.  For the past nine years, Marilyn lived in the senior living community, Village on the Park, where she enjoyed engaging with new friends, playing board games, meeting fellow retirees and sharing in their lives.
The family wants to thank the many caregivers and friends who assisted Marilyn after her move to Texas.  She met Donnarie Armstrong via Care.com and they quickly became close friends enjoying activities and outings throughout the Houston area.  Special thanks also to caregivers Belma Quellar and Maria Ramirez.
A celebration of life service will be held in Huntsville, Alabama at a later date.  In lieu of flowers, please consider a memorial gift to your favorite charity.