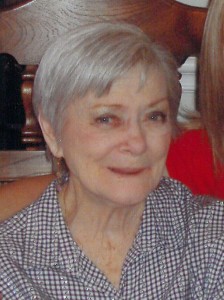 Marie Vivian Dowell Tittle, 85, of La Marque passed away on Wednesday, March 11, 2015 peacefully surrounded by her family. She was born on July 14, 1929 in Idabel, Oklahoma. She lived most of her life in Galveston County.
She is preceded in death by her husband Roger Tittle; her parents Otho and Beulah Crow; four brothers and one sister.
Marie is survived by her children; Sharon Flores of Kilgore, Rosemary Craig of La Marque, Larry Dowell of Texas City, Ann Ybanez (Richard) of Texas City, Melanie Persky (Steve) of Santa Fe, Rodney Dowell (Cayce) of Santa Fe, Robin Dowell of Santa Fe and numerous grandchildren, great-grandchildren and great-great-grandchildren along with other family members.
She focused all her love and care on raising her children, they were her pride and joy and she cherished them more than life itself.
Mom we love you and you will be missed dearly, but Heaven is gaining another beautiful Angel. We will always cherish your memories and see you again in the Heavenly family union. God Bless!
Visitation will be on Sunday, March 15, 2015 from 5:00pm – 8:00pm at the James Crowder Funeral Home in La Marque. Funeral service will be at 2:00pm on Monday, March 16, 2015 at the Crowder Funeral Home. Burial will follow at Forest Park East Cemetery in Webster, Texas.
The family would like to express their appreciation to the AMED Hospice Group for all their wonderful care received by Marie and her family during this difficult time.