Marianna Filomena Virgili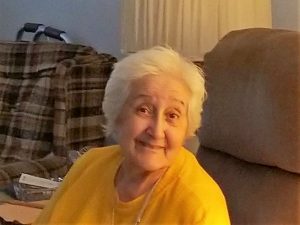 Marianna Filomena Virgili, passed away on Tuesday December 7th day, League City Texas, at the age of 80. Marianna was born on July 1st 1937 in Pozzuoli, Italy to Samuele and Maria Jusepa Cascone.
After earning a teaching degree in Italy for art, she worked as a dressmaker and sewed the clothing for her family. Her hobby was her gardens: tomatoes, basil and her fig trees. Her passion was cooking, and hosting. She found happiness watching everyone enjoy her culinary creations.
Marianna was preceded in death by her husband Gerald Allen Reed. She is survived by her two children and their spouses: Patricia and Carmine Masotto, Walter and Karen Reed. Marianna is also survived by her three grandchildren and one spouse Samuele and Gina Masotto, Alyssa Masotto, and Joseph Reed. She is also survived by one great grandchild: Davide Masotto.
The Family will receive friends on Tuesday, December 12, 2017 at 5:00pm with Services at 7:00pm at Crowder Funeral home: 111 E Medical Center Blvd, Webster, TX 77598.
****Please note visitation and ceremony will be held at our Webster Location.