Marian Virginia Bauer Fuller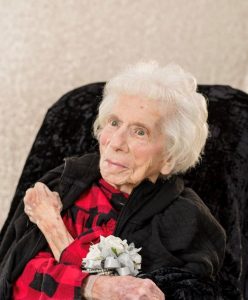 Marian Virginia Bauer Fuller. Born November 16, 1925 went to be with our Lord on May 27, 2020.  She is preceded in death by her husband Lester Kan Fuller, Jr. and son Lester Nelson Fuller.  She is survived by daughter Andrea Fuller Dickerson and two brothers Robert and Donald Bauer, her four Grandchildren: Kittye Trevino (Mark), Kelly Burns, Stacy Curtis (James), and Lester Antone Fuller (Michele), and Seven Great Grandchildren: Victoria Barta (Cody), Olivia Schlemmer (Andrew), Morgan Burns, Callan Burns, Cody Curtis, Ryan Curtis, and Haley Curtis, and finally two Great-Great Grandchildren Tristan and Woods Barta. Marian was loved by many nieces, nephews, and many greats and great-greats of the former.
Marian was born in League City, Texas the sixth child of 8 to Charles and Lena Bauer. She graduated from the League City School in 1944.  She met the love of her life, Lester Fuller, at the Silver Moon in Dickinson, Texas and that love affair would last for 67 years.
Marian worked at Camp Wallace for the Department of War, The League City Post Office, and the Galveston County Appraisal District. She found fulfillment through teaching and sharing her love for music. She was an active member of the Veterans of Foreign Wars Auxiliary, the League City Garden Club and The League City Lioness Club. Each year she and her sister Vivian Woodard would look forward to running the lemonade booth at the League City Village Fair.
Marian was a lifelong member of the League City United Methodist Church where she would teach Sunday school, play the piano and organ, and sing in the choir. She was a lover of music and passed that love of music on to so many others.
Services will be held at Crowder Funeral Home, 1645 East Main Street, League City, Texas on June 6, 2020. Visitation will be at 10:00 a.m. with services following at 11:00 a.m.