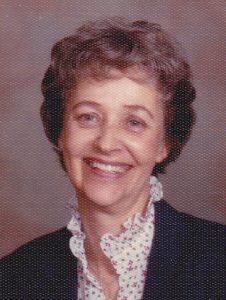 Margie Dean Anderson (Zemanek), 80, of San Leon, passed away peacefully in her sleep, January 16, 2017 at Season's Personal Care Home in Hitchcock, Texas.
The family will receive friends on Monday, January 23, 2017 from 9-10:30am at Crowder Funeral Home, 1645 East Main Street, League City, Texas 77573. The funeral service will follow at 10:30 am at Crowder Funeral Home with Pastor Greg Poore of Clear Creek Community Church officiating. Interment will follow the funeral at Houston National Cemetery at 2pm.
Margie was born February 29, 1936 in Marlin, Texas the daughter of the late John Henry and Gracie Lucille (Ray) Zemanek. She graduated from Waco High School in 1954. After traveling the world with her beloved husband, she began her career in Human Resources until her retirement in 1996.
Margie married the love of her life John Griffith Anderson on December, 21, 1954, they were married for 47 years. Together they had one daughter, Frances Grace Steele (Peter) and two sons Joseph William Anderson and John Charles Anderson.
She is survived by her brother, James Arnold Zemanek (Donna), her grandsons, Jeremy Griffith Steele, Peter James Steele (Erika), Joshua William Anderson (Kasey), granddaughters Jessica Wrene Sullivan (Alan) and Julia Christine Anderson.  She is also survived by numerous great grandchildren, nieces, nephews and other family and friends.
Margie is preceded in death by her beloved husband, John, parents, John Henry and Gracie Lucille and her brother John Paul Zemanek.