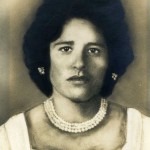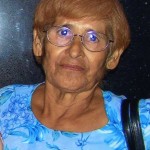 Margarita Bahena, 78, of Dickinson, Texas, passed away August 11,, 2014 in Dickinson, Texas. Margarita was born May 31, 1936 to Domingo and Vicenta Aguilar in San Luis Potosi, Mexico. She was a loving wife and mother and cared for her family. She was also a member of the Shrine of the True Cross Catholic Church for many years.
Margarita was preceded in death by her parents: her loving husband, Primo Bahena; Sister, Felipa Aguilar, and Brothers, Guadalupe and Arnulfo Aguilar.
She is survived by her Daughters, Delia "Mary" Cruz and her husband, Ernesto, Silvia Bahena, and Delia Bahena Del Cid and her husband, Oscar; Sons, Juan Bahena, Jaime Bahena, Ruben Primo Bahena and his wife, Thelma, and Mateo Bahena and his wife, Sheryl; Sisters, Maria A. Rincon (Francisco), Juana Aguilar, and Elpidia A. Diaz; Brother, Jose Aguilar; thirteen grandchildren and twelve Great Grandchildren.
Visitation will be held for Margarita, August 14, 2014, from 5:00 pm to 9:00 pm, Crowder Funeral Home, Dickinson, Texas. There will be a prayer service at 5:30 and a rosary at 7:00 pm. Mass will be held Friday, August 15, 2014, 10:30 am at Shrine of the True Cross Catholic Church, Dickinson Texas with interment following at Mt. Olivet Catholic Cemetery, Dickinson, Texas.
Honored to serve as pall bearers are Juan Bahena, Ruben Bahena, Jaime Bahena, Mateo Bahena, Ernesto Cruz and Domingo Torres. Serving as honorary pall bearer are Antonio Bahena and Ruben Bahena, Jr.
In lieu of flowers, donations may be made to The American Cancer Society in Margarita Bahena's name.