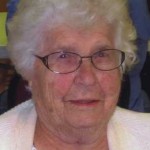 Margaret Tibaldo, lifelong resident of Santa Fe, Texas, passed away Thursday, June 12, 2014. She was born December 20, 1922 in Hitchcock, Texas to parents Joseph Tibaldo and Anna Dellacroce.
Margaret worked as a bus driver for O'Connell Catholic School. She had a passion for baking wedding cakes and baking for special occasions. Margaret owned and operated Tibaldo's Egg Farm. Margaret was a member of Our Lady of Lourdes Catholic Church where she served on the Altar and Rosary Society, the Bereavement Committee and on the Friendship Club. Margaret belonged to the ACCW, the Royal Neighbors, and TOPS Chapter #1237.
She was preceded in death by her parents and her brothers and sister, John Tibaldo and wife Carmella, Dominic Tibaldo and wife Charmzell, Louis Tibaldo and wife Rosemary, and Catherine Tibaldo.
She is survived by nieces and nephews: Richard Tibaldo and wife Elizabeth, Paul Tibaldo and wife Claudia, Kathy Carpenter and husband Gary, Debbie Beard and husband Jack, Donna Moser and husband Freddie, Jr., Kenneth Tibaldo, Steven Tibaldo and wife Pam, Jerome Russo and wife Frances, and Victor Russo and wife Ann; and numerous great nieces and nephews.
Visitation will be held from 5 p.m.-7 p.m. Monday, June 16, 2014 at Our Lady of Lourdes Catholic Church in Hitchcock, Texas; a rosary will begin at 7 p.m. Funeral services will be held at 10 a.m. Tuesday, June, 17, 2014 at Our Lady of Lourdes Catholic Church in Hitchcock, Texas. In lieu of flowers, donations may be made to Our Lady of Lourdes School or the Knights of Columbus #10393.