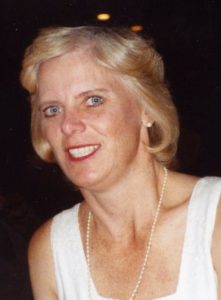 Margaret May Raeburn, 61, resident of Johnson City, Texas formerly of Tiki Island, passed from this life, Friday, June 23, 2017 surrounded by her family.  Margaret was born in Atlantic City, N J on February 3, 1956 to proud parents, Theodore and Margaret Petersen.
Margaret was a graduate of the University of Houston and received her Masters from Prairie View A & M. She went on to a career in Social Work which continued for 14 years. Margaret was a member of Trinity Episcopal Church in Galveston, Texas. She was a loving wife, mother, and grandmother. She was preceded in death by her parents.
She leaves to cherish her memory, her loving husband, Brandt Raeburn; a son Caidin Pierce and wife Amy; two daughters, Megan Terry and husband Thomas, and Audrie Gondesen and husband Scott; two sisters, Theresa Stegman and husband Chip, and Marianne White and husband Paul; two brothers, Theodore Petersen and John Petersen and wife Courtney; as well as nine grandchildren, Alyssa Wells, Adam Wells, Madizen Gondesen, Emma Gondesen, Max Gondesen, Evan Gondesen, William Pierce, Mason Terry and Maddox Terry.
In her honor, a celebration of life will be held at Trinity Episcopal Church in Galveston, Texas on Wednesday, June 28, 2017at 10:00 am.   Arrangements by Crowder Funeral Home, Dickinson, Texas.