Margaret Mary Maack Hajovsky Tierney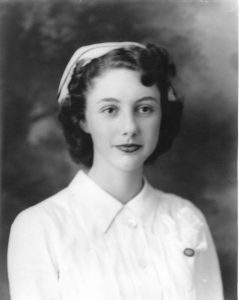 Margaret Mary Maack Hajovsky Tierney, 94, passed away April 28, 2017. Mrs. Tierney served her country as a nurse in the U.S Army Air Corp during WWII and received the American Theatre Medal and the Victory Medal. She graduated in 1943 from St. Joseph School of Nursing and was a nurse for 43 years, she worked for: Medical Arts, Memorial Herman and M.D Anderson Hospital. Mrs. Tierney has been a Pearland, TX resident since 1968.  She attended St. Helen Catholic Church and was a member of the fraternal organization of Catholic Daughters.
Mrs. Tierney is preceded in death by her husbands, John J. Hajovsky Sr. the father of her children and Thomas E. Tierney Jr.; son, Michael A. Hajovsky; brothers: John A. Maack and William L. Maack; sister, Lucille Gilbeaux.
Margaret is survived by her daughters: Judy A. Hajovsky and Patricia M. Gunter, husband Charles A.; son, John J. Hajovsky Jr., wife Barbara; grandchildren: Craig Hajovsky, Chrissy Hajovsky, Clint Hajovsky, Carey Hajovsky, Shawn Gunter and Anthony Gunter: nine great grandchildren.
Visitation will be held from 5-8 pm on Monday, May 1, 2017 with a rosary at 7pm at Crowder Funeral Home in Pearland. Funeral service will begin Tuesday, May 2, 2017 at 1pm at St. Helen Catholics Church
with a burial to follow at Forest Park Lawndale.