Margaret Mary Arolfo Marshall
Our belov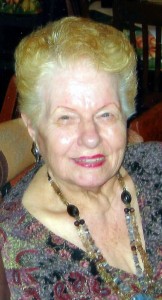 ed mother, Margaret Mary Arolfo Marshall went to be with our Heavenly Father on Sunday, February 1, 2015 at the age of 94 after a brief battle with breast cancer. She passed away peacefully at home with her children by her side.
Left to cherish the memories are her children and their spouses, Byron W. Marshall Jr and Carol Leigh Pauls, Velvet Catherine and George R. Dixon, Dr. Crystal Marshall Brady and William Brady, Lawrence W. Marshall and Dixie Hallimore She was so proud of her grandchildren and will always be remembered by Tamara Marshall Krake of Haywood,CA who gave her 3 great grandchildren; Douglas R. Dixon of Seattle, WA;Michelle M. Marshall of San Antonio; Marshall G. Dixon of Austin; Peggy Jo Dixon with two great grandchildren from Austin; Natasha Brady, Nikita Brady, Julia Brady and Dimitri Brady from Friendswood, and Jonathan D. Marshall of Dickinson. She is also survived by a beloved sister, Stella Arolfo Regini and two brothers, Jimmie Peter Paul Arolfo and Angelo L. Arolfo, along with numerous nieces, nephews, and many dear friends all of whom she loved and cherished.
She was born on March 21, 1920 in Hitchcock, TX to Lawrence and Catherine Daro Arolfo. At a young age, her parents moved to League City where she then became one of its longest, living resident's. She was preceded in death by her husband of 49 years Byron "Bob" Marshall who passed away in 1994, along with her parents, Lawrence and Catherine Daro Arolfo her two brothers, Joseph "JoJo" Arolfo and Johnnie L. Arolfo, Sr. Margaret and Bob were also part time residents of Tiki Island for more than 20 years.
In her younger days, not only was she a dedicated wife, mother, and farmer, she was active with numerous clubs and community organizations. For more than 90 years she was an active parishoner of St. Mary's Catholic Church including St. Mary's Altar Society, League City Lions Club, League City Jaycees, League City Garden Club, League City Historical Society, Houston Italian Federation, Clear Lake Italian Club, St. Johns Water Aerobics Swim Group, the Tuesday Morning Coffee Club that dates back to 1960, two Bunko groups for the past 40 years and lunches with the Fabulous Four.
Our mother had a love for life, her family and God. She had a gift to turn lemons into lemonade and all enjoyed being around her. She never met a stranger and will be deeply missed by her family and friends. She will be remembered for her beautiful smile, warm spirit, sparkling laughter, great parties, and the wonderful tasty home cooked meals such as her delicious stuffed crabs, lasagna, angel food and pound cakes, flan and pecan pies.
Pall bearers are Johnny Arolfo Jr, Lawrence Arolfo Jr, Angelo Arolfo Jr, Raymond Bartels, Joseph D. DiIorio and Lawrence P. DiIorio.
Crowder Funeral Home in League City has arranged for the family to receive friends from 5:30-7pm on Wednesday February 4, 2015 at St Mary's Catholic Church located at 1612 E. Walker, League City, TX 77575 with vigil and rosary to follow. On Thursday, February 5, 2015 a Mass of Christian Burial will be celebrated at 10:30 at St Mary's Catholic Church with interment at Mt Olivet Catholic Cemetery in Dickinson, TX.