Margaret (Maggie) Conditt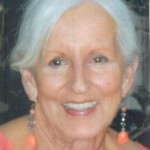 Margaret (Maggie) Conditt, passed away on March 12,2014 at her Webster home, surrounded by her loved ones.
Maggie is survived by her sisters Judith Van Dingenen and Beth Mattonen, her daughters Susan McClintic and
Julie Clawson, son Christopher Conditt,six grandchildren and four great grandchildren.
A memorial service will be held at Crowder Funeral Home in League City, Texas on March 18th, 2014 at 2pm.