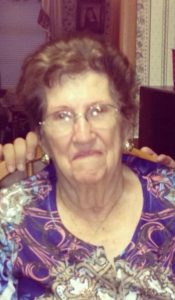 Margaret Lively, 92, of La Marque, passed away on November 29, 2016 in Texas City, Texas.
Margaret was born December 13, 1923 in Galveston, Texas, to Valentino and Mary Dushman.  She was a graduate of Ursuline Academy and lived in Galveston until 1976 when she moved to La Marque.  She centered her life around her family, raising three daughters, Cheryl, Margaret Ann, and Belva.   Margaret was a dedicated and supporting mother, grandmother, great-grandmother, great-great-grandmother, sister, aunt, cousin and friend.
She was preceded in death by her parents, first husband Emmitte Virgil Bowden, second husband Lafon C. Lively, daughter Cheryl Maldonado, brother Robert Dushman, sister Agnes Wills and sons-in law Roy Maldonado, Sr. and Joe Fichera, Sr.  Left to cherish Margaret's memory are daughter Margaret Ruttiger and son-in-law Ronnie, daughter Belva Fichera, sister Sylvia Swinner, grandchildren Susan Harriman (Karl), Roy Maldonado, Jr. (Chanci), Michael Maldonado, Ronnie Ruttiger, Jr. (Lupe), Joe Fichera, Jr. (Corley), and Michelle Fichera, nine great-grandchildren, one great-great grandchild, five step-children and their children and grandchildren, and a host of nieces and nephews.
A visitation will be held on Friday, December 2, from 5pm-8pm at the James Crowder Funeral Home in Dickinson with a Rosary at 7pm.  Funeral mass will be Saturday, December 3, at 12pm at Queen of Peace Catholic Church in La Marque.  Burial will follow at Mount Olivet Catholic Cemetery in Dickinson.  Pall Bearers will be Roy Maldonado, Jr., Michael Maldonado, Ronnie Ruttiger, Jr., Joe Fichera, Jr., Karl Harriman, and J.C. Lloyd.
The family would like to thank the staff of Ashton Parke Care Center for the wonderful care given to our beloved mother and grandmother.
In lieu of flowers, donations may be made to the National Parkinson's Foundation or the charity of your choice.