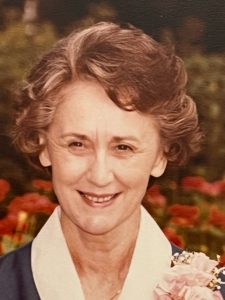 Margaret Edna Sagona, 98, of Richmond, TX, formerly of Baton Rouge, LA, and Donaldsonville, LA, passed away on June 18, 2022 in Richmond, TX. She was born on September 24, 1923 in Belle Rose, LA. Margaret was a faithful member of Our Lady of Mercy Catholic Church, where she served as a member of the Altar Society and Rosary Ministry, and as a Eucharistic Minister.
Margaret rejoins her husband, Felix Joseph Sagona; parents, Claiborne and Marie Daigle; sisters: Hilda Aucoin, Ruth Dugas, Eunice Loland, and Mabel Johnson; brother, Hubert Daigle.
She leaves behind her daughters: Sue Zammit, husband Kent, Roselyn Sagona, and Meg Williams, husband Gary; son, Jerome Sagona, wife Tracy; six grandchildren and nine great grandchildren.
A memorial service for Felix and Margaret Sagona, will be held Friday, June 24, 2022, at 10:00 a.m., at Our Lady of Mercy Catholic Church, 445 Marquette Ave, Baton Rouge, LA 70806,  with a reception to follow at church activity center.
Donations in memory of Margaret may be made to Our Lady of Mercy, St. Vincent de Paul Conference of Baton Rouge.