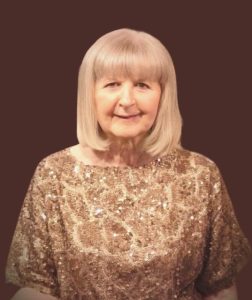 With deep sorrow, we announce the passing of Margaret Ann "Margie" Hansen on October 28, 2022, at age 80. She is reunited in heaven with her parents, Louis and Frances Delesandri and her brother, Joe Delesandri.
Margie will be forever remembered and loved by her husband, Charles "Chase" of 56 years. Their marriage started with a non-traditional wedding proposal over the phone while Chase was stationed in the Marine Corps. Margie and her family pulled off a wedding shortly thereafter while Chase was on leave. They lived in San Diego, California for a short time and returned to Texas to build their life and family together.
She was a devoted and loving daughter, big sister, wife, mother, and grandmother.  Margie was a selfless person that asked for very little other than time with her family.  In return, she gave them her all. She had a calm and welcoming nature that was always felt by those in her presence.  She loved to be one of the gang and was at her happiest with family and loved ones.
Margie enjoyed traveling, shopping, almost daily lunches with her daughters, attending baseball games, cheer events, and being at home with Chase.
She will live on in the hearts of her daughters (who were also her best friends), Michelle Powers and husband Mike, Stacy Jones and husband Brent, brothers, Louis Delesandri Jr, David Delesandri and wife Nina, sister-in-law Vernell Delesandri, cousins, nieces and many family and friends.
"Memom" was dearly loved by her grandchildren, Avery, Addison, Tyler, and Carson. Margie helped raise her grandkids until they started school while Michelle and Stacy were fulfilling their careers. Many wondered at her age how she could watch them from the time they were a baby until they started school, but she gladly did it. The love of a grandparent is endless and will not be forgotten by her grandchildren.
Michelle and Stacy would like to thank their Dad for his endless devotion and care of their Mom.  There were times when her health issues were not easy over the years and he always put her first and foremost.
A wife, a mother, a Memom too, this is the legacy we have from you. You taught us LOVE and how to fight. You gave us strength; you gave us might. A stronger person would be hard to find and, in your heart, you were always KIND. You fought for us all in one way or another, not just as a wife not just as a mother. For all, you gave your best. Now the time has come for you to rest. So go in peace, you've earned your sleep. Your love in our hearts, we will eternally KEEP.
Visitation and Rosary will be held Tuesday, November 8, 2022, from 10:00 am-11:00 am. Funeral Mass will follow at 11:00 am. The services will be held at Our Lady of Lourdes Catholic Church in Hitchcock, Texas