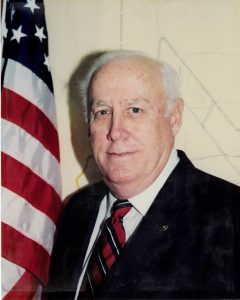 Marcus Junemann, 91, of Texas City passed away on Tuesday, June 20, 2023.  He was born May 21, 1932 with twin sister Joan Norris to Morris A. and Georgia H. Junemann (nee Bavoux) in Galveston, Texas.  In 1950 Marcus graduated Ball High and then attended Texas A & M University.  He was the owner and operator of Junemann Plumbing for over 35 years.
Marcus is a 6th generation Texan, a life member of the Sons of The Republic of Texas and member of Sons of Confederate Veterans. He served 2 years as City Chairman for The March of Dimes and is a life membership of La Marque 50 club.  Marcus was a past president of La Marque Jaycees and past member of the board of the La Marque Chamber Commerce.  He served 12 years on the La Marque Teen Advisory Council, chaired the committee to build the teen center, and selected as Outstanding Citizen of the Year.  Marcus was a 12 year sponsor of the La Marque Minor League Baseball Team.  He was a past member of LMISD Equalization Board and past member of Board of Directors Galveston County Fair.
He spent over 37 years as County Draining Commissioner and was the 2nd longest elected County Official.  Marcus chaired the county wide flood control project study committee.  The County Commissioner's Court named public right of way in his honor.  He is a past member of La Marque Biracial Committee and was also a BSA Scoutmaster for Troop 233.
Marcus was a Past President of La Marque Rotary Club, awarded 8 Rotary Paul Harris Fellow Awards. He was on the Rotary International District 5910 Roll of Fame and was a Past Rotary International District 5910 Governor. He founded and was the four time chairman of Rotary Youth Leadership Award (the leadership enhancement program for Southeast Texas High School Juniors) and also had 4 RYLA monetary scholarships awarded in his name.
Marcus was a faithful member of the Episcopal Church for 72 years and of St. Michael's La Marque for 64 years.  He served four times as Senior Warden and two times as Junior Warden and several times St. Michael's delegate to Diocesan Council.
Marcus was a role model for Integrity, Honesty, Trustworthiness and Loyalty.
Marcus is preceded in death by his parents, son Mark, daughter Cathy and mother and grandmother to his children and grandchildren, Jolie Hess.  Marcus is survived by his wife of 45 years, Nancy Junemann, sons: Michael and Ernest (Malinda), daughter Sandra (John), twin sister, Joan Norris, brother, Jon (Betty) grandchildren: Chris (Courtney), Katie (Jose), Cory (Sarah), Ty (Ashley), Taylor (Michael-Alan) and Angela (Aaron), his great grandchildren: Brianna, Lex, Liv, Kadin, Kameron, Allyson,  Chris and Madison.
A visitation will be held on Friday, June 23, 2023 at 10:00am at St. Michael's Episcopal Church in La Marque. Funeral Service will be at 11:00am with Father Bob Moore officiating.  Burial will follow at Galveston Memorial Park Cemetery in Hitchcock, Texas.
Arrangements are under the care of the James Crowder Funeral Home in La Marque.
Marcus' Favorite Quotation – "Make A Difference" and He Did!
In lieu of flowers donations may be made to St. Michael's Episcopal Church in La Marque.