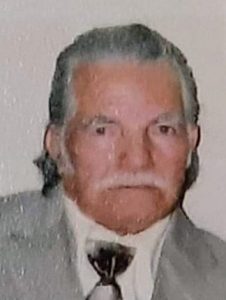 Manuel Chavez, 90, años de edad, residente de Kemah, Texas falleciό octubre 12, 2020 en Webster, Texas. Naciό el 25 de Julio, del 1930 en Guaracha Michoacan, Mexico. Sus padres fueron Miguel Chavez y Maria D. Sanchez. Viviό prevamente por cincuenta y cinco años en Matamoros, Mexico. Y por 35 años en la ciudad de Kemah, Texas.
El Seńor Chavez fue miembro por largo tiempo del Shrine of the True Cross de la Iglesia Catόlica en Dickinson, Texas. Manuel trabajo por seis años en South Shore Golf Course. Fue precidido en la muerte, por sus padres y abuelos y dos hermanas; Maria Luisa Chavez y Josefina Grimez Chavez y un hermano llamado Miguel Chavez.
Los sobreviven sus hijas Martha Hinojosa, Maria Dolores Chavez, y Maria Luisa Baenna, Manuel Chavez, Jose Arturo Chavez y Juan Manuel Chavez, Miguel Chavez También lo sobreviven sus hermanas Pascula Soria Chavez, hermanos Roberto Chavez y Candelario Chavez, y veintenueve nietos.
La visitaciόn del Seńor Manuel Chavez será el día 15 de Octubre del 2020 en la Funeraria James Crowder, 401 Texas Ave. (FM 1765) La Marque, Texas 77568. La visitatciόn comenzará a las 5:00 p.m. hasta las 8:00 p.m. Se celebrará un rosario a las 6:00 p.m. el día siguiente, 16 de Octubre, 2020 habrá una misa a las 10:30 a.m. en Shrine of the True Cross Catholic Church, 300 FM 517 Rd. East, Dickinson, Texas 77539. Sequido de la misa será sepultado en Mt. Olivet Catholic Cemetery, 7801 Gulf Freeway, Dickinson, Texas 77539. Personas asignadas como escolta honoraria serán: Manuel Chavez, Miguel Chavez, Jose Chavez, Juan Manuel Chavez, Gilberto y Juan Hinojosa. Miguel Chavez, Manuel Chavez Jr., Luis Chavez, y Arturo Chavez Jr.