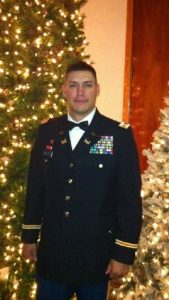 MAJ Michael D. Miller was born in Las Vegas, Nevada on July 30, 1971. He passed in his home surrounded by family and friends on Friday, February 10, 2017.
Michael graduated with the Class of 1989 from Denison High School, where he is now a member of the Denison Alumni Association Sports Hall of Fame. After graduation, he attended Texas A&M with an athletic scholarship. While attending A&M, in 1994, he was the National Champion for the Indoor 4 x 400 meter relay. He graduated from A&M in 1996 with a Bachelor of Science Degree.
In 2001, Michael enlisted in the Texas Army National Guard. During his enlistment he served and led a variety of assignments and received numerous medals and awards, which include: 2 Bronze Star Medals, Meritorious Service Medal, 4 Army Commendation Medals, Army Achievement Medal, Texas Medal of Merit, Texas Adjutant General's Individual Award, Iraq and Afghanistan Campaign Medals with service stars, National Defense Service Medal, Global War on Terrorism Service Medal, Armed Forces Service Medal, Humanitarian Service Medal, and the Armed Forces Reserve Medal. In August 2016 Michael was promoted to Major.
While MAJ Miller loved his country and was dedicated to serving, he also enjoyed volunteering his time as a member of the Rodeo Express Committee where he made numerous friends. The two most important accomplishments to Michael were his two girls, Alyssa and Jailyn. He enjoyed being a father and always spent time with them. As a family they enjoyed their time together on the lake, boating and jet skiing. He was proud of each of their involvement in activities. He loved to watch Jailyn doing her gymnastics and also bragged about Alyssa's accomplishments in volleyball and golf. Michael spent the last 14 months with his soul mate and wife, Sheena.
MAJ Miller is survived by his wife, Sheena, of Dickinson, his daughters Alyssa and Jailyn, his father Mike and mother Davine of McKinney, his sisters Jaime of LaPorte, Meredith and her husband Joe of Waco, his nieces and nephews Owen, Nicholas, Audrey, Eloise, Victoria, Thomas, Celeste, and Emi, his Nana Martha Bruton of Denison, his aunts Mary, Beverly, Tina, Lisa, and their spouses. MAJ Miller is also survived by numerous cousins and dear friends.
Services for MAJ Miller will be held on Wednesday, February 15, 2017 at 10:00 am at Southway Community Church. Michael's body will be laid to rest at the Houston National Cemetery as his life is celebrated with full military honors. In lieu of flowers, MAJ Michael and his family would be honored with donations made to Operation Finally Home or Camp Hope.