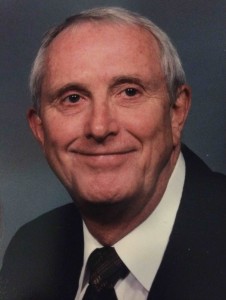 Lynn Quillin, 81, of Bay City, TX, took his last flight home on Wednesday, Jan. 21, 2015 when he passed away in Webster, TX following a short illness.  A trained U.S. Air Force pilot, Reservist and Air Force Academy Admissions Officer, he was known for his joy of taking friends and visitors up in his Cessna to see his adopted Gulf Coast community of Bay City, TX.
He was born on a farm in Depression era rural Fouke, AK on July 23, 1933 to schoolteacher Austin Albert Quillin and avid reader Rachel Ophelia Lynn, their fourth and last child.  An exceptionally gifted child, he skipped a grade and graduated Fouke High School at 17.  Anyone who knew him certainly knew he reveled as a graduate of the University of Arkansas (1955) with a B.A. and minor in Architecture.
He then married Mary Josephine Moore on Monday, April 2, 1956, because they didn't want to marry on April Fool's Day.  The two departed the next day for Bartow Air Force Base, FL, where he was commissioned as a 2nd Lieutenant.  After attending flight school, he served at multiple bases before being stationed in K-6 Pyongtaek, Korea.  He held this service dear and often spoke of his love of the Korean people and its children especially.
Lynn and Jo ran Bay City Office Supply for over 40 years and he was always open to dispense advice from his "open concept" office in the store.   His community service was legendary including Jaycees, Kiwanis, Bay City School Board, Matagorda General Hospital Board, Bay City Public Library Board, and the Matagorda County Democratic Party of which he received a lifetime award in 2014 for over 50 years of service.  Indeed, his store was the Democratic Meeting location for most of its 40 years.
Lynn is survived by his wife of 58 years, Mary Jo, his three daughters, Jennifer Maxwell (Sonny), Kathleen Nathan (Keith) and Elizabeth Quillin, three beloved grandchildren, John Austin, Joseph Dane and Katherine "Kate" Lyndsey Nathan, his sister Theresa Webb of El Campo, TX and brother Austin Albert Quillin (Sibble) of Rockwall, TX.  He is also survived by his much-loved nieces and nephews, Paul Webb, Brenda Lanier, Carla Lovelace,  Judy Stohle, Bob Quillin and Ed Quillin, nine grand-niece and nephews and 13 great grand-niece and nephews. Lynn was preceded in death by his parents, his sister Alma Quillin Lanier, as well as his brothers-in-law Emmet Lanier and Paul Dewey Webb.
A military funeral will be held Thursday, Jan. 29, 2015 at 12:30 p.m. at U.S. National Cemetery,   10410   Veteran's Memorial Drive, Houston, TX.  A memorial and celebration of his life will be held Saturday, Jan. 31, 2015 at 2 p.m. at First Baptist Church, 2321 Ave. F,  Bay City, TX.  More information can be found at www.crowderfuneralhome.com.