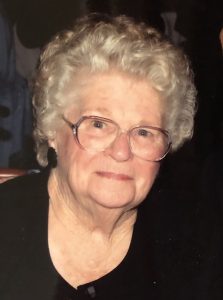 Lynette Amanda Cole, 92, of Hitchcock passed away in Texas City at her sister's home on Thursday, April 19, 2018. Lynette was born September 27, 1925 in Texas City, Texas to John and Hilda Neas.  She was a long time resident of Hitchcock.
Lynette was a member of All Saints Episcopal Church. Her great joys were spending time with her loved ones and watching the Houston Astros. She was widely known as a wonderful homemaker who loved to cook for others and owned a large library of cookbooks and recipe collections.  Many of her recipes have been passed down through the generations of her family, and continue to be served upon frequent request; these include her cornbread dressing, shrimp dip, shrimp gumbo, Redeemer bread, and "secret-ingredient" banana pudding.
Lynette, known by her family as "Babe", loved going on adventures. She lived in Belgium for a time with her husband Raymond Cole, who worked for Carbide and passed in 1987 after 39 years of loving marriage.  She sailed on many cruises with her family, and took the occasional trip to Las Vegas, where she was known for her luck at the slot machines.  She visited her daughter in places like Alaska, New Mexico, Colorado, and Washington State, as well as to see her sister Kay in Alexandria, VA.  She enjoyed going on long car rides with her sister Margie and brother-in-law Jim, even if it was just to drive the length of Galveston Island and back.
In addition to her beloved husband Raymond, she is preceded in death by her parents, two sisters, and two brothers.
She is survived by her daughter Sandra Robbins and son-in-law James of the Seattle, Washington area, as well as her sister and best friend, Marjorie Scalf, brother-in-law Jim Scalf of Texas City; grandchildren John Robbins, Susan Robbins, and Steven Robbins; two great grandchildren and two great-great grandchildren; a very special nephew, John Scalf; and many nieces and nephews.
Lynette was the much-loved matriarch of her family; she will be sorely missed by all who knew her.
Visitation will be held on Sunday April 22, 2018 from 5:00 P.M. to 7:00 P.M at the James Crowder Funeral Home  in La Marque. A funeral service will be on Monday April 23, 2018 at 10:00A.M. at the funeral home with Father Mark Marmon officiating with burial to follow at Galveston Memorial Park in Hitchcock.