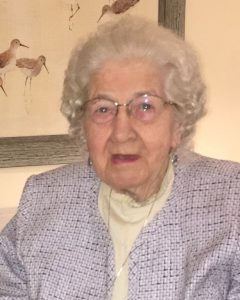 Lucille (Lucy) Wedergren was welcomed into the loving arms of Jesus May 6, 2017, at UTMB Emergency Hospital in League City, TX.
She was born June 28, 1928, in New Orleans, Louisiana to Peter and Anna Cardaro.
Her precious life always reflected her faith in Jesus.  She was baptized at First English Lutheran Church in New Orleans where she grew in her God-given faith.  She taught Sunday School, sang in the church choir and had many dear friends. She first worked in a department store and then became a dental tech for several years.  One day her brother Robert, who was at Lutheran Seminary, came home on Spring Break and brought along his fellow classmate, Robert (Bob) Wedergren.  Lucy and Bob began a relationship that culminated in their marriage at First English Church on January 12, 1957, and lasted 60 years.
Their service to Christ brought them to their first church in Youngstown, Ohio, and here God blessed them with two great sons, John Mark and James Michael.
Their next church was in the small country community of Farnhamville, Iowa, and here God placed in their arms, a daughter, Ruth Christine.
Lucy was a fantastic Mom.  She led them in her faith with her humble caring and loving ways, and John, Jim, and Ruth show this in their lives and are so grateful to God for all that Mom did.  And they continue to reflect her love.
After they left Iowa, the family came to Texas and Lucy worked for 16 years at UTMB in the Medical Records Dept. and her husband, Bob served there as a Hospital Chaplain for 28 years.
After retirement, Lucy and Bob traveled, went to family reunions, and enjoyed time with family and friends.
A few years ago, Lucy fell and fractured her hip and shoulder. From that time on she got used to being in a wheelchair and dealt with a number of arthritis problems.
It must be mentioned again that her faith in Jesus radiated in all that she did, always grateful for her precious family and friends; she was and is the Jesus lady!
We love you precious wife and Mom!  We'll see you again when the Lord of the Cross and Resurrection brings us home!
Lucy is survived by her husband, Bob, kids John, Ruth, Jim and his wife Pam; grandchildren Nicole, Rachel, Sean, Kelli and her husband Manuel; and great-grandchildren, Alexis Kiana Green, Kevin Wayne Range, Jr., and Elliott James Cervantes.
She was preceded in death by her parents, Peter and Anna Cardaro, brother Peter Cardaro, Jr. and many other relatives and friends.
"Lord, let me walk beside you, let me hold your hand in mine, let me know the Joy of being in your love divine."
A visitation will be held Thursday, May 11, 2017, from 6:00 p.m. – 8:00 p.m. at Crowder Funeral Home in Dickinson, TX
Funeral services will be held at 10:00 a.m. Friday, May 12, 2017, at Faith Lutheran Church in Dickinson with interment following at Mt. Olivet Cemetery.