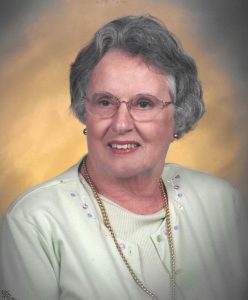 Lois Starek (89), of League City, TX peacefully passed away on Saturday March 24th surrounded by the love of her family and friends.
Just 3 weeks earlier she actively and joyfully celebrated her youngest daughter's wedding.
Lois always enjoyed being surrounded by her family including her & husband's siblings, nieces & nephews, friends, and colleagues. We have fond memories of family gatherings, travels, interests, her humorist laughter, dedication and love for us. She was an outstanding appliance salesperson at Sears Westwood Mall for 15 years; participated in Church Activities, League City Garden Club, Senior Clubs – Sunshine and H2U, Red Hat Society – a Small Group of Friends from League City, Senior Water Aerobics now called Water Lilies, or walking and being at East beach in Galveston.
She is survived by her husband, William, of 70 years; Daughter Linda Starek Clark and husband Carrington; Son William, Jr and wife Debra; Daughter Patricia Starek and husband Douglas;
Granddaughters: Lauren, Christine and Jessica Starek, Friend and Caregiver, Thedies Broussard.
We are most thankful for their love, patience, friendship, caregiving from the staff teams at
The Cottages at Clear Lake, Delaney Retirement Community at South Shore and Providence Hospice.
Services will be held April 17, 2018: Rosary Gathering at 9:30 am, followed by Memorial Mass at 10:00am; Mass officiated by Fr. Howard Drabek, Pastor; St Mary's Expectation Church, 1612 E Walker St, League City, TX 77573.
Internment will be at Massachusetts National Cemetery in the Town of Bourne on Cape Cod.