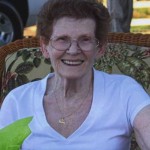 Lois Geraldine Hays, 84, life-long resident of Galveston, Texas, passed away February 4, 2014 in Dickinson surrounded by three generations of her loved ones. She was born August 16, 1929 in Spavinaw, Oklahoma to parents Alford and Maggie Henson. She was a member of West Isle Presbyterian Church in Galveston, Texas.
She was preceded in death by her husband, parents, son, Geary Norman, brother, "Red", and sisters, Midge, Lucille, Velta, granddaughter, Shannon, grandson, Matthew, niece and Best Friend, Onieda.
She enjoyed gardening, fishing, and bingo, but her greatest pleasure was caring for and being ornery with her kids, grands and great-grands.
She is survived by her son, Cecil Norman and wife Linda, daughter, Sharon Robinson and husband Michael, son, Glen Norman, and daughter Tresea Moradi and husband Parviz; grandchildren, Kelly Youngblood (Jeff), Christopher Porter (Yuka), Jocelyn Cook (Derron), Kasey Haney (Donnie), Sarah Chase (Jeff), Jillian Robinson, Hailley Saylor (Jonathan), G.W. Norman, Jr., Justin Norman, and Ashley Moradi; great-grandchildren, Kraig, Kruz, Kiana, Siamack, Kamryn, Drake, Gunnar, Charlotte, Cannon, Kaiden, Jocelyn, Cali, Sawyer, and Coral.
Visitation will be held from 10 a.m.-11 a.m. Friday, February 7, 2014 at Crowder Funeral Home in Dickinson. Service will begin at 11 a.m. with interment following at Galveston Memorial Park Cemetery in Hitchcock, Texas. Pallbearers will be Jeff Youngblood, Christopher Porter, Derron Cook, Kameron Shirali, Baback Moradi, and Mohammad Shirali. Honorary pallbearers are Kraig Latimer, Kruz Youngblood, and Khusrow Moradi.