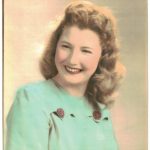 After a valiant battle with cancer, Lois Claudean Foster entered Heaven's gates and met her Savior on March 29, 2018.  Claudean's service will be held at the League City Church of Christ at 2 pm on Tuesday, April 3, 2018.
Claudean was born 12/24/1929 in Brazoria County, Texas, to William Thornton and Ruby Kellie.  She graduated in June of 1947 from Damon High School in Damon, Texas.  She then furthered her education at Elliott Business College in Houston, Texas in 1949.  Following World War II, Claudean met her future husband and Navy man, Edward Ray Foster, Sr.  They married August 13, 1949 in Glenmore, LA.
Claudean was wife, mother, and homemaker and gardener.  She loved quilting, reading and spending time in their West Texas Ranch in Pandale, Texas, where she met many long-lasting friends.  She held a dual membership at the Ozona Church of Christ.  She was a strong woman with a will of iron, and when she spoke, we listened.  She enjoyed visiting with friends and family and told stories and memories that entertained us all.  She was not a prissy woman but had a love of all things beautiful.
She was preceded in death by husband, Edward Ray Foster, Sr., her sons Edward Ray Foster, Jr., and Kenneth Dean Foster.  She is survived by her daughter and caregiver of fifteen years, Cynthia Marie Foster of League City, TX; her brother Billie Thornton and his wife Joy of Lubbock, TX; sister Kathy Johnson and husband Joel of Palestine, TX; sister-in-law Inita Foster Fruge and husband Eddie of Willis, TX; daughters-in-law Ruth Ann Foster of Marion, Ohio, and Mary Watson Foster of League City, TX; Grandson Seth Ian Foster of Austin, TX; granddaughters, Nicole Rhiannon Foster of Clear Lake, TX; Kaitlyn Foster Boston and her husband Daniel of Plant City, FL; great grandson Liam Foster of Austin, TX; great granddaughters Kali and Cheyenne Boston of Plant City, FL; and many other cousins, nieces and nephews.
In lieu of flowers, the family is requesting donations to M.D. Anderson Hospital.