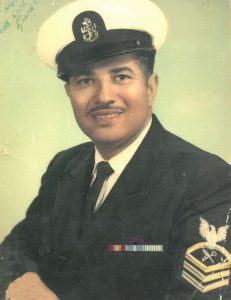 Lionel Jack, a devoted father, grandfather, and proud service man, was born May 4, 1932 in Ville Platte, Louisiana. He was the son of Mayo Jack and Isola Chapman.  At an early age, Lionel was baptized by Rev. Arthur Deville at St. John Baptist Church in his hometown of Ville Platte.
As a child, Lionel was naturally inquisitive and adventurous. He enjoyed visiting relatives and riding horses.  While spending time with his aunts on their farm, who were excellent cooks, he developed an enthusiasm for cooking.  Later, as a young adolescent, Lionel moved to Lake Charles and then eventually moved to Galveston, Texas to live with his mother. He was a member of Central High School in Galveston, Texas of 1952 where he played the Clarinet as a member of the marching band. It was here, Lionel, a dashing and handsome young man with charisma and charm to match met the love of his life, Effie Mae Angel and began his career as a Navy man and entrepreneur.
Lionel was an exceptionally ambitious young man. While in high school, he worked as a waiter at the luxurious Galvez Hotel in Galveston, Texas. After high school, he joined the United States Navy where he excelled in various capacities. It was during this time, in 1952, He married Effie Angel, and they went on to raise 6 beautiful children (1 son and 5 daughters).
After 21 years of dedicated service to the Navy, he ultimately retired from the Navy in 1972 as a Chief Petty Officer and settled in Texas. He began his business career at Sears Automotive, where he received many promotions and successively became an Executive Manager of the Automotive Centers in the Galveston, Houston, Austin, and Port Arthur regions.
Following a successful career at Sears and due to his unwavering love for the culinary arts, Lionel merged his cultural roots, talents, work ethic, and strong business mind gained throughout his early life to pursue his childhood passion. He became the head chef and owner of successful Louisiana inspired restaurant in La Marque/Texas City affectionately named Mr. Jacque's Cajun Restaurant. He operated the restaurant alongside his devoted wife, Effie, and daughters, Cheryl and Erin Jack, until his final retirement.
Lionel understood what it meant to leave a legacy and that part of that legacy meant self-sacrifice.  He worked tirelessly for his family, country and posterity.  He was an easy-going man who enjoyed the simple things in life like coffee with his newspaper, good music and dancing (zydeco), Texas teams and ball games.   He knew he was given his "one minute…he didn't seek it, didn't choose it" (Benjamin E. Mays) but he made use of it, his "minute," by living his life exceedingly and to the fullest.
Left to cherish his memory are his Children: Lionel Joseph Jack (Linda), Janet Yvette Jack, Donna Jack Childress (Leonard), Tammy Jack Nolan (Lloyd), Cheryl Deneen Jack and Erin Ashley Jack.
Grandchildren: Sherri Woodard (Joshua), Amber Lauren Peoples (Jovell Sr.), Lionel Joseph Jack II (Teresa), Kimuel Clark Hailey II, Jamie LeAnn Childress, Loren Olivia Childress, William Joseph Montgomery, Randi Simone Childress, Taylor Janee Nolan, Justin Jack Montgomery, Jordan Alexia Nolan, Kayla Angel, and Sire Smith.
Great-Grandchildren: Tyger Joseph Turner, Chad Jospeh Jack , Marlo Victoria Jack,  Jaelle Lynea Peoples, Jovell Larue Peoples Jr., Jacque Laurence Peoples, Jaxon Laurent Peoples, and Jolie Loren Peoples.
Siblings: Geraldine Carroll of Texas City, TX, Emily Joy Johnson, Laue Jane Thomas, Elfa Williams of Bay Town TX., Mayo Jack, Jr. (Dolores) of Anchorage, AK. Godson: Rev. Vincent Fontenot (Georgia) of Texas City, TX.,  Sisters-in-Law: Estella Jack, Beaumont, TX, Anna M. Allen of Texas City, TX, and Jean Domio Angel of New Orleans, LA.
Preceded in Death by: wife of 62 years- Effie M. Jack, parents, grandparents, brother- Larry Jack, sisters- Inez Stewart, Ogenia Allison, uncles, aunts, and other relatives.
The body will lie in repose Friday, November 8, 2019 from 5PM-7PM and Saturday November 9, 2019 from 11AM-1:00 PM, followed by a Celebration of Life Service at 1:00 PM at James Crowder Funeral Home Chapel, 401 Texas Ave. La Marque, Texas.
Interment will be at 1:30pm on Monday November 11, 2019 at Houston National Cemetery, 10410 Veterans Memorial Dr. Houston, Texas.
In lieu of flowers, donations may be made in Lionel Jack's name to Gamble Personal Home Care 501 North Amburn Road Texas City, Texas   77591.