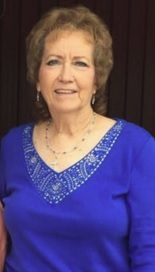 Linda Oglesby Arp, 76, went to be with the Lord and Savior on March 11, 2022, in Houston, Texas surrounded by all her loved ones. 
She was born on August 21, 1945 to Lillie Mae and Willie (Bill) Oglesby. Linda married Walter Arp on April 4th, 1998 and they shared 24 loving years of marriage together.  
She was heavily involved in her church, First Baptist Church Huffman, where she was devoted to her Sunday school class and a member of the choir for many years. She had a passion for Jesus, her family, her backyard wildlife, and creating beautiful flower arrangements and decorations. 
Linda (Mom/Nana) is survived by: her husband, Walter Arp; daughters, Starlett Mueller and husband Russell Mueller;  Crystal (Tish) Dreymala and husband Tracy Dreymala; grandchildren, Cierra Rodriguez and husband Steven Rodriguez, Dalaina Dreymala, and Rustin Mueller; great grandson, Kolter Rodriguez; niece, Tracey Oglesby, and numerous other relatives.
She is preceded in death by her parents:  Lillie Mae and Bill Oglesby; brother, Ronnie Oglesby; nephew, Darin Oglesby; and great grandson, Kohen Rodriguez.
A graveside service will be held at Forest Park East on Friday, March 18, 2022 at 11:30 am and a "tribute luncheon" at 1:30 at First Baptist Church Huffman.
"Nana" was loved by so many and will be missed greatly.