Linda Ladelle Sisco Jones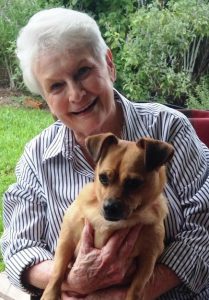 Linda Ladelle Sisco Jones, beloved by all, passed away on Thursday, April 20, 2017 in her home in League City, Texas, at the age of 76.
She was born on August 4, 1940 in Minden, Louisiana, to Thomas Henry Sisco and Lela Alene Jordan.
Linda loved making others happy, with a big smile and bigger heart. She raised two rambunctious sons, giving them all of her love and nurturing them while they lived under her roof and later when long distances separated them. She loved her husband and kept the family together through thick and thin. Linda was a great listener and gave good advice.  The family, especially her little sister, could always count on her to provide a genuine perspective. Linda was so devoted to family and lovingly took care of her mother in the later years of her life. At a younger age, she enjoyed golf, tennis, bike riding and bowling. Her love of these activities had a significant impact on her niece growing up, whom Linda taught to play tennis, golf and later encouraged her athletic endeavors from marathons to the Ironman triathlon.
Linda also had a love for culture and enjoyed sharing stories of her time spent in Indonesia. Her home was always filled with memorabilia of her overseas travel and all of her grandkids just loved banging the gong she had in her living room. And Linda sure was the Queen of Hospitality! For years she would host with open arms large family get-togethers in Rusk over the holidays. Every room was packed with family and so many memories and laughs were shared over morning coffee.
Later in life, she fell in love with Gertie, the cute little mutt who adopted her one day at her former home near Rusk, Texas and thereafter the two were rarely apart. Her youngest son and family were blessed when Linda moved into their house in League City in 2012. She enjoyed watching a good old classic movie, sitting on the patio enjoying a little nature, having long talks on the phone with her loved ones, but most of all always supporting her family and friends with her kind words and her big hugs that would lift you off your feet!
Preceded in death by her father Thomas, mother Alene, brother Wayne, and grandparents William Thomas Sisco, Viola Daisy Huckabay, Charles Alvis Jordan, and Lela Pearl Bryant.
Survived by former husband Clay, sons Byron and Scott; daughters-in-law Amy and Toni; grandchildren Nolan, Kelsi, Jessica and Alexandra; sister Sandy and brother-in-law Terry, niece Tanya her husband Greg and great nephew Kai; and nephew Shawn.
Family and friends are invited to celebrate her life and interment of her ashes at 12noon on Mother's Day, Sunday, May 14, 2017 in her beloved mother Alene's and brother Wayne's gravesite at Shiloh Cemetary, located west of Alto, Texas. From the intersection of Hwy 69 & Hwy 21 in Alto, go west on Hwy 21 for 0.3 miles to FM 294. Turn right on FM 294 & go 0.1 miles to FM 752. Turn left on FM 752 & go 2.6 miles. The cemetery is on the right side of the road.
In lieu of flowers, the family asks that you donate in honor of Linda to Friends of League City Animal Shelter, online at http://www.friendsofleaguecityanimalshelter.com/ or by mail to P.O. Box 57069, Webster, Texas 77598 or to the animal charity of your choice.