Linda June Ann Regenburgh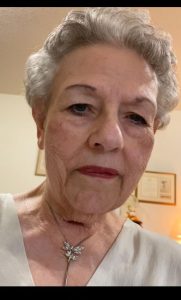 Linda June Ann Regenburgh
10/18/1945 – 08/10/2022
My mom was born Linda June Ann Lundberg in Brooklyn New York, Oct 18, 1945, to John
Edward Lundberg and June Ingabord Lundgren. She was first generation American on her
dads' side and second on her moms, both sides of the family came over from Götland, Sweden.
Mom grew up in Long Island, and sadly lost her father at the age of 4. Her mother later
remarried her wonderful step-father, Eddie Borowski. They then moved to Daytona Beach
Florida, then eventually Houston Texas. While in Florida, mom went to college, then worked for Embry-Riddle Flight School, where her proudest achievement was getting to fly a plane! Upon moving to Houston, she worked for NASA – and loved the fact she worked there during a time she was able to contribute to putting man on the moon.
Her parents encouraged her to take dance lessons to meet eligible men, so she started at Fred Astaire Dance Studio in Clear Lake, where she indeed met her future husband, Richard. They married in 1971 at Hope Lutheran Church in Friendswood, and had their only child, Robin, in 1973. They bought their home in Friendswood in 1971, where my mother continued to live until her health began to fail in 2021.
Linda and Richard divorced in 1991, afterward she began to expand her professional and
social horizons. She worked for Clear Creek School District in several capacities, including
working with learning disabled children, which brought her joy. She worked for a few other offices, but her true joy was working for Amazing Chem Dry as an office manager. She was able to talk to her customers all day, getting to know each one, and having a myriad of new friends.
Mom loved to sing, and did every chance she got – whether at karaoke, or with the Maricahis at Mamacita's restaurant. She played the accordion, which she learned as a child, as her father had also played many Swedish polkas and encouraged her to learn. She enjoyed writing poetry and collecting animal figurines of all types. She adored cats and all critters, and took care of some feral kitties that showed up, knowing they'd found a great home. She also sang with the choir at her new church, Friendswood Methodist, until it became too hard for her to physically show up for practice.
Mom spent her last year of life at the lovely Morada Assisted Living in Friendswood, after not being well enough to travel to live with Robin and Steven in California. She enjoyed the staff, met some amazing friends, and even had a lovely boyfriend.
Linda passed Wednesday, August 10, 2022, due to complications of heart failure. Her last year of life was very difficult, having survived pneumonia, a broken leg, a heart attack, severe bone and muscle wasting from CHF, diabetes complications, Covid, TAVR heart surgery (which did save her life and let her stay with us longer), and extreme disability from all the above.
Linda was preceded in death by her parents and step-father, and by an older sister, who sadly died at birth. She is survived by her daughter, Robin, her son in law Steven, and by her dear friends who became our family, Ruben and Noella Morales, along with their children and grandchildren.