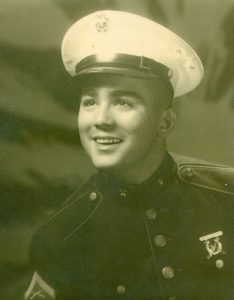 Leslie 'Mac' Phillips… hard worker, lady charmer, inappropriate-joke teller, Harley rider, gun-toter, horse-trader, bear-hugger, Wrangler wearer, boot scooter, story portrayer, hat-sporter, gadget inventor, penny pincher, candy lover, random-fact giver, family-forever Marine… graduated to heaven on November 22, 2019.
Mac appeared on the scene September 21, 1943 in Newton, KS and the world was forever changed. He was welcomed into heaven 76 years later by his parents Woodrow Phillips, Cora & Jim Kehl and his sisters, Dianna Carlson, Dottie Keasling, & Dana Arnold. He is survived in legacy by his loving (and 'per Mac' perfect) daughter, Melissa Boudreaux; amazing son-in-law, Blaine Boudreaux; exemplary grandsons, Brendan and Brett Boudreaux; beautiful sisters, Donna Flowers of Kyle TX, Dixie Swindle of Valley Center KS, Debbie White and husband Roger of Wichita KS; 'The little' brothers, Sam Phillips and wife Trisha of McKinney TX, Will Phillips and wife Debra of Wichita KS, and numerous nieces, nephews, cousins & longtime friends.
Mac was a devoted daddy, proud and "good-looking Pawpaw", loving but stubborn brother and an extremely loyal friend (or foe). A resident of Alvin and Pearland, TX since 1974 until moving to Baytown, TX in 2013. He proudly served his country in the U.S. Marine Corp, First Marine Division, under the famous General Chesty Puller. Mac was a lifetime member of the Marine Corp League #982 in Angleton, the American Legion #0490 in South Houston and a 40-year member of Communication Workers of America, retiring from Lucent Technologies in 2001. 'If you're on time, you're late" was his motto until he died.
He always made quite an impression with his charm, character and the ability to make people laugh with his innate silly side but could also be a tough-as-nails diehard despite his stature. He was a fierce protector of those he loved. Mac enjoyed the simple things in life like the sun on his face, popsicles, sports, hot sauce on everything, and the occasional Jerry Springer. He hated chicken, almond milk and liars. He was a self-proclaimed tightwad and proud of it. He didn't want a funeral or a big fuss and probably giving us all an eye roll. Even so, he knew how to make the most special memories for those special to him, and he will always and forever be remembered, loved and deeply missed.
A memorial visitation will be held on Sunday, December 1, 2019 at 1 p.m. followed by a service at 2 p.m. in the chapel of Crowder Funeral Home, 2422 E. Broadway St. Pearland, TX 77581.
In lieu of flowers, please send memorial contributions to:
Texas Children's Cancer Centers: 6701 Fannin St #1400, Houston, TX 77030
Semper Fi Fund: https://semperfifund.org
Salvation Army: http://salvationarmyhouston.org/tribute-giving/