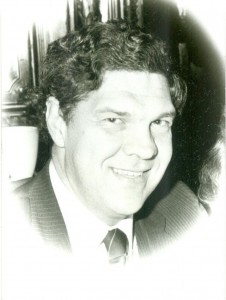 Leslie A. Derrick, Jr., secure in his faith, passed away on Friday, July 17, 2015, surrounded by his wife and children.
Born on May 4, 1944 in Houston, Texas to Lura Morene and Leslie A. Derrick, Sr., Les grew up in South Houston and moved to Glenbrook Valley.  He attended Hartman Middle School and Milby High School where he was named to The Sporting News 1961 National High School All-American Football Team as a quarterback. He and his younger brother Phil were a part of the '61 team that reached the state quarterfinals. On Sept. 16 of that year, Phil caught three touchdown passes from his brother against Bellaire. Les accepted a scholarship to The University of Texas at Austin during his senior year.
Les was known for his ability to play several positions at Texas. He was the quarterback for the freshman team, was part of the 1963 National Championship team, earned his first start as a running back and defensive back in '64, led the Southwest Conference in yards per catch as a wing back in '65, and broke the record for most interceptions in the Bluebonnet Bowl (3) as a defensive back in '66. His teammates voted Les the Longhorn Club Sportsmanship Award at the finish of his senior year.
On July 31, 1965, Les married Susan Conine. They lived in Austin until '67, and moved to San Antonio where Les worked as a salesman for IBM. They moved to Houston in '73, when Les went into business with his father.  He remained active in the water business for forty years until his passing. Les became a pastor in '83 at Living Way Church, where he served for 23 years. After his retirement, he was instrumental in mentoring and advising people in their walk with the Lord.  He and Susan did a church service once a month at Pt. Rehab for many years. For the last six years, Les and Susan have been members of Living Word Church of the Bay Area in Seabrook, Texas.  Les served as head of the Welcoming Committee and was a Board Member at his passing.
Les was preceded in death by his parents and brother, Brad Derrick.
Les is survived by his best friend and wife of almost 50 years, Susan and their five children: Tracy and husband Mark Kubena and their children, Tyler, Brooks, Paige and Morgan; Danya; Leslie A. Derrick III and his children, Anthony, Dylan, Kyan, and Gavin; Amanda and husband Jason Morse and their children, Austin, Faith, Braeden, and Jordan; Caleb and wife Sarah and their children, Peyton, Gracie, and Colton. He is also survived by his brother Phil and his wife Betty; his nephews Gill and wife Rosalind, Bobby and wife Ghada, and Roy; his nieces Julie Derrick, Louise Duble, Bonnie Shelton and husband Tommy, and Stacey and husband Steve. He is also survived by many other relatives and cherished friends.
There will be a memorial service at Living Word Church of the Bay Area on August 9, 2015 at 6:00 p.m. Please make donations in lieu of flowers to Lackey Ministries, LoveBotswana.org, or Worldwide Voice in Wilderness (prison ministry).