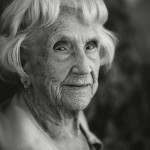 Leone Halvorson Krug was born on the May 11, 1914 to Otto Halverson and Mattie Boe Halverson in Adams, Minnesota. The 13th of 14 children, Leone was baptized into the Christian faith in 1914 at Marshall Lutheran Church where later she stated her confirmation vows.
After high school Leone became the first girl in her family to attend college. Graduating from Fairview Hospital School of Nursing, Leone was inducted into the Army-Air Corp in May 1941 as a 2nd Lieutenant.  While stationed at Jefferson Barracks, Missouri, Leone met the love of her life, 2nd Lieutenant Orland H. Krug, whom she married on Valentine's Day, 1942.  They were blessed with four children, Kurt, Karen, Julie and Mike. During their marriage they lived in Salt Lake City, Utah, Kansas City, Missouri, Sharon, Massachusetts, Walnut Creek, California, Dunwoody, Georgia, Citrus Hills, Florida, and League City, Texas, enjoying the friendship of many along the way.
Leone lived life well – trusting Jesus and, loving and being loved by family and friends.  On June 9, 2014, shortly after her 100th birthday, Leone went home to be with her Lord. She is preceded in death by her beloved husband, Orland, her parents and siblings. She is survived by her children, Kurt Krug and wife, Jan, Karen Plansky and husband, Tony, Julie Requadt and husband, Chuck and Mike Krug and wife, Jan, eight grandchildren and thirteen great grandchildren. Leone's life was richly blessed by the love of family and friends.
A celebration of her life will be held Friday, June 13, 2014, at 2:00pm in the Gloria Dei Chapel at 18220 Upper Bay Road, Nassau Bay, Texas.
Memorial gifts be made to the Gloria Dei Memorial Fund at Gloria Dei, 18220 Upper Bay Road, Nassau Bay, TX 77059 or the charity of your choice.
Leone will rest with her husband in the Houston National Cemetery.