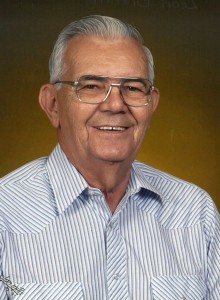 Leon Alfred Brieden, 85, of Texas City, Texas, passed away on Thursday, July 28, 2016. He was born on September 26, 1930 in Devine, Texas to Alma and Alfred Brieden. Leon proudly served in the United States Army during the Korean War. He worked for Union Carbide and retired after 30 years.
Leon is preceded in death by his loving wife; Ruby Brieden, his mother and father, sisters; Carolyn Hooper and Madelyn Smith, and brothers; George Brieden and Robert Brieden. He is survived by his daughter; Lisa Mejia and her husband Rene, sons; Warren Brieden and his wife Linda,  and Michael Brieden, sisters; Rosie Brieden Jay of Devine, Texas, and Catherine Brieden Lindsey of Salado, Texas, grandchildren; Jonathan Brieden and fiancée Lisa , Katie Brieden, Matthew Laymance and wife Mandy, Jared Laymance, Anthony Mejia, and Amy Mejia, and nine great-grandchildren.
Visitation will be held on Sunday, July 31, 2016 from 6:30pm to 8:00pm at James Crowder Funeral Home in La Marque. A funeral service will be held on Monday, August 1, 2016 at 2:00pm at the funeral home with Pastor Jennifer Clem officiating. A graveside service will take place on Tuesday, August 2, 2016 at 2:00pm at St. Joseph's Cemetery in Devine, Texas.