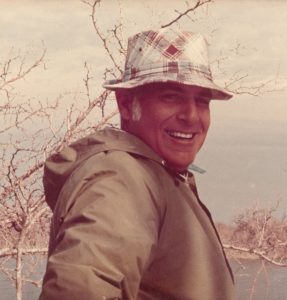 Leo J. Lakovich, 96, of Texas City completed his "Circle of Life" on November 1, 2018.  He was born in Galveston, Texas on April 1, 1922 to his parents, Chris J. and Stella (Radarich) Lakovich, whom immigrated to America from Yugoslavia in 1915.  He and his family were members of the Serbian Orthodox faith.
Leo graduated from Ball High in 1939. He worked for W.A. Kelso Building Materials for 35 years, where he became Executive VP.  He then became Senior Managing VP for Campbell Ready Mix in Cleveland, Texas.  Leo was an avid golfer (a former President of Twin Lakes Country Club of La Marque and a private country club in Cleveland).  Leo's favorite pastime was deer hunting, where he was the happiest, always.
He was preceded in death by his parents and his first generation-born in the USA siblings: Mary Paratore, Johanna Lawrence, Vida Licata Hughes and Sam J. Lakovich, along with his kind son, Gregory W. Lakovich.
Leo is survived by his daughters, Sheryl Palmer and Glenda Waggoner and her husband, Robert Lynn Waggoner, who was Leo's loyal caregiver and devoted son-in-law.
Leo's surviving grandchildren are Scott Palmer, Melissa Waggoner Smallwood, Susan (Joseph) Lucchese, Lari Odom (Frank) Polivka and Kimberly Ives.  His great grandsons' are Landon Nickerson, Ryder Shipley and his beloved Colin Robert Odom and also, numerous nieces and nephews.
A memorial visitation is Friday, November 9, 2018 at 12:00pm – 2:00pm at the James Crowder Funeral Home in La Marque, Texas.