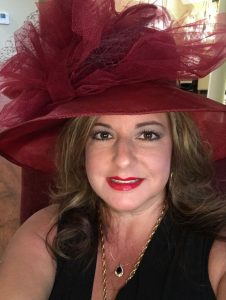 Lauren Slattery-Jones, 44, passed away June 2, 2019. Lauren was born June 3, 1974 in Texas City, TX. Lauren was a resident of Lantana, TX and formerly of Cypress, TX. 
 Lauren's life was filled with happiness, love from family and her dogs, arts and crafts, home, decorating, and many, many, many friends!  As many of your already know, Lauren's heart was filled with love for others and always looking for an opportunity to help someone in need. She will be missed more than anyone will ever imagine and we wish everyone to keep her close to their hearts as we memorialize "Lawrny".   
 Lauren is preceded in death by her husband of 19 years, Robert Jones and her father Patrick Slattery.  
 Lauren is survived by her mother, Legia Slattery; step daughter, Esther Guerra, husband, Ricky; step son, Caleb Jones, wife, Taylor; step granddaughter, Ava Guerra; sisters: Denise Morales, husband Mike and Jeanna Hargrove, husband John; brother, Patrick Slattery, wife Angela; nieces and nephews: Brandon Morales, Tara Morales, Joshua Houston, Jordan Houston, Skylar Slattery and Karsyn Slattery; partner, Aristotelis "Teli" Trikilis and his daughter, Therese Rothfeldert and her husband Chris; uncle and aunt Sam and Tootie Tranchina, her dogs, Trixie and Scrappy; numerous cousins and The Robert Jones family.  
 There will be a visitation from 5:00pm-7:00pm, Thursday, June 6, 2019 with a service to follow at 7:00pm at the Crowder Funeral Home in Dickinson, Texas. 
 In lieu of flowers please make contributions to your choice of any Animal Rescue Group as she was an avid lover of all animals.