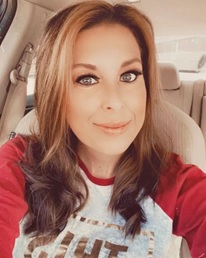 Laura "Shanna" Walters was born on January 10, 1986, in Pasadena, Texas. She passed away surrounded by family and friends on April 16, 2022, in League City, Texas, after a long and courageous battle with cancer. Shanna was an inspiration to all of her family members and friends.
She is preceded in death by her grandparents, Donald and Billie Ann Walters, and William Joseph and Brenda Kay White; and her cherished pets, Colby, Cadillac, and Onyx.
She is survived by her daughter, Shayleigh Bartlett; her parents, Steve and Sheri Walters; her brother and his wife, Devin and Heather Walters; her beloved nephews, Lyndon and Layne Walters; her fiancé Kevin Carnish; and numerous aunts, uncles, cousins and extended family and friends.
Shanna was loved by all who met her, and despite being such a tiny person, she always gave the biggest hugs. She was most comfortable wearing her sweats. She loved watching the Astros and Steelers, having hot baths, helping the homeless, and attending to her cats (she was allergic to them) and dogs and even her adopted sea turtles. Shanna was happiest when she was being a mom and an aunt. She loved Shay fiercely, and Lyndon and Layne meant the world to her. She never met a stranger. The family and children of each of her friends quickly became a part of Shanna's family. She was an "aunt" to many and played an important role in all of those lives. Shanna lived a faith-filled, selfless life. She always put the needs of others first and always found time for everyone in spite of how she was feeling or how busy she was. Shanna loved hard and gave her all. She will be dearly missed. We "love you bunches," Shanna! Until we meet again, "okie, dokie!"
Visitation will be held at Crowder Funeral Home in Dickinson, Texas, from 6:00-8:00 pm on Friday, April 22, 2022. A funeral service will be held at the same location at 10:00 am on Saturday, April 23, 2022, with Deacon Jesse Tollett officiating. Burial will follow at Menard Chapel Cemetery in Livingston, Texas, at 4:00 pm.
Pallbearers are Devin Walters, Mitchell Fortner, Aaron Michaels, Kevin Carnish, Craig Carnish, and Zachary Trahan. Honorary pallbearer is Morgan Fortner.