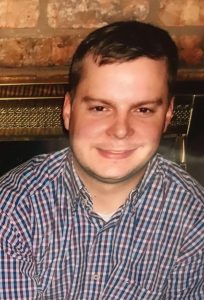 Landon Shane Studdard, 42, went running on two healed legs and a completely healed body into the arms of his Lord and Savior, Jesus Christ, early Thursday morning, May 11, 2023.
Landon graduated from Hitchcock High School in 1998, where he played the trumpet. He received an Associate's degree from COM in 2005 and also attended SFA. For the past 20 years, Landon has been a dedicated employee of McDonald's in La Marque and a faithful member of the First United Methodist Church in Hitchcock.
Left to cherish Landon's memory is his parents Denise and Mike Charlston and Dwayne and Linda Studdard; brothers Matthew and Chase; and numerous friends and relatives. His beloved grandparents, Dr. Chester and Effie Studdard, William Kuni and Barbara Kuni Reed, preceded Landon's arrival in heaven.
Visitation will be from 9:00 – 10:00 on Saturday, May 27, 2023 at the First United Methodist Church in Hitchcock. A funeral service will begin at 10:00am with Rev. Mike Selzer officiating. Services will be under the direction of James Crowder Funeral Home.
Friends are invited to fellowship with the family immediately after the service. Burial will be at Mt. Zion Methodist Church in De Berry, TX.