Ladislaus "Lad" Joseph Erzen III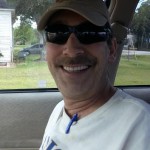 Ladislaus "Lad" Joseph Erzen III, born on May 27, 1963 was lifted up to be with GOD on Monday, March 24, 2014. He was born at Mount Sinai Hospital in Cleveland Ohio and moved to Houston Texas in the early 1980's. Lad graduated at the top of his class from Geneva High School in Geneva Ohio. He continued his education an attended Lakeland Community College in Mentor Ohio, where he took computer related classes.
In Houston, he successfully programmed and implemented a local hospital's
accounting/payroll program. He continued to enjoy the programming industry and went on to work for a couple top ranked companies. He enjoyed computer programming, various music, art, sports, collectables, anything to do with classic rock and he deeply adored his two cats, Cali and Rusty.
He is survived by his mother, Sharon Marie Cooney and husband Ronald; father Ladislaus Joseph Erzen Jr. and wife Beverly; sister Natalie Sue Perrone; niece Melissa Sue Garner and nephew Ryan Joseph Perrone. A beautiful service was held in his honor at Saint Mary Catholic Church located at 1612 E Walker, League City, Texas at 11:00am Saturday, March 29, 2014. There was a private gathering at his sister's house after the service for lunch and a celebration of his life.
Lad was a very loving and gentle soul with a huge giving heart. He would easily give the shirt off his back to one in need,even if he didn't have the means to replace it. Lad's distinctive laugh will be forever in our minds, and his spirit will live on in our hearts forever. Lad was a beloved Son, Brother and Uncle whom will be deeply missed.
Broken Chain
We little knew that morning that
God was going to call your name.
In life we loved you dearly,
in death we do the same.
It broke our hearts to lose you,
you did not go alone;
for part of us went with you
the day God called you home.
You left us peaceful memories,
your love is still our guide,
and though we cannot see you,
you are always by our side.
Our family chain is broken
and nothing seems the same,
but as God calls us one by one,
the chain will link again.
~Ron Tranmer~