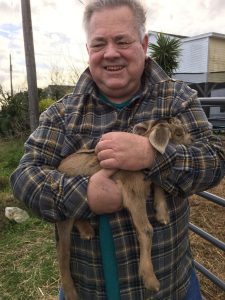 Mr. Kyle Lynn Simms, 65, a Pearland resident since 1969 passed away on March 20, 2017. Mr. Simms was born July 20, 1951 in Houston, TX to Donald and Lillis Simms. Mr. Simms worked for the Union Pacific Railroad for 40 years as a Signalman. He attended Fellowship Bible Church and on his off time he enjoyed the outdoors: fishing, traveling, camping and jet skiing.
Mr. Simms is preceded in death by his parents.
He is survived by his wife of 32 years of marriage, Janice Ann Simms; son, Harley Simms, wife Adrianna; grandchild, Bryce Simms; sister, Lillian Smith, husband Samuel; numerous nieces and nephews.
There will be a visitation on Thursday, March 23, 2017 from 5-8 pm at Crowder Funeral Home in Pearland. Funeral service will begin 10am Friday, March 24, 2017 in the Chapel of Crowder Funeral Home. Burial to follow at South Park Cemetery.
Pallbearers will be: Max Milstead, Samuel Smith, Darren Smith, Danny Davis, Myron Benavides and Kevin Milstead.
In lieu of flowers, please send memorial contribution in Kyle Lynn Simms name to American Cancer Society, https://donate3.cancer.org/