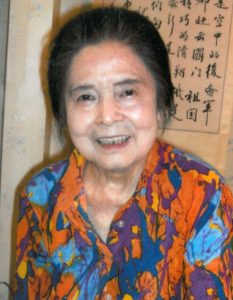 Khim Lee, 93, of Houston, TX passed away in Webster, TX on July 6, 2018.  Ms. Lee was born on April 25, 1925 to Wei Ming Ng and Khim Lian Chang in Indonesia.  She has been a resident of Houston for th past 8 years and formerly of Rockport, MA.  Khim was a member of the Chinese Presbyterian Church, K.L., Malaysia.
Ms. Lee is preceded in death by her parents and two brothers, Kung Liam Ng and Nge Liam Ng.
Khim is survived by one brother, Miao Sam Ng and two sisters, Pit Gin Ng and Pit Ha Ng; three daughters Ling Lee, Diana Barclay and husband Martin Barclay, and Pei Sah Upshaw and husband Eddie Upshaw; two sons Julius Lee and wife Carolina and Nester Lee and wife JoAnne; along with eight grandchildren and four great-grandchildren and numerous nieces and nephews all beloved.
There will be a graveside service 10am on Wednesday, July 11, 2018 at Mt. Olivet Cemetery in Dickinson, TX.