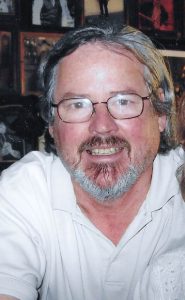 Kevin James Collins, 72, passed away on November 14, 2020  in Houston, Texas with his two  beloved sons at his side, after a hard fought battle with prostate cancer.
Kevin was born on May 27, 1948 in Buffalo, NY. He spent his life inspiring others and his smile could light up a room.  Throughout his life, Kevin was an active member of the deaf community. He had the innate ability of loving everyone around him regardless of communication barriers.
He attended grammar and high school at Saint Mary's School for the Deaf in Buffalo.  During his time away at school his siblings missed him and every Friday when he returned home was a joyful, fun-filled family reunion. It was at St. Mary's that he blossomed into a star student and athlete, excelling at basketball and track. His high school teams were noted for winning National Deaf tournaments and were highly competitive in the Buffalo Catholic leagues.
After high school, Kevin worked in the publication department at the US Department of Transportation in Washington DC. He then attended Delgago College in New Orleans developing his dental technician skills. This education led to a 35-year career as a dental technical with the Veteran's Administration in Houston, Texas. For him, it was a rewarding career of service to our nation's Veterans.  As a huge sports fan, Kevin drew great pleasure in cheering on his sons and grandsons in their various sporting activities. He enjoyed fishing, golfing, and spending time with his family.
Kevin is survived by his sons Brendan and Scott (Michele) and grandsons Braeden and Greyson. He is also survived by his brothers and sisters, Daniel and Patrick, Susan, Kathy, Ann, Mary, Margaret, Joan, and Jeanne. Kevin will also be forever remembered by his numerous nieces, nephews, cousins, extended family and dear friends. He is preceded in death by his Father, Daniel W. Collins, his Mother Margaret E. Collins, and three nephews, Daren Bashor, Cody Gullette and Jack Garland.
Kevin gracefully faced life's challenges head on and rewarded those that knew him with memories that will last forever. He will be missed by all those who loved him. He will be honored at a Memorial service at Crowder Funeral Home in League City on Saturday, November 28th at 1:00pm (CST). A virtual option will be provided for those that cannot attend in person.
In lieu of flowers, the family is requesting that donations be made in Kevin's name to St. Mary's
School for the Deaf, "Foundation for Deaf Education", using this link
https://www.smsdk12.org/page/166
The paypal/credit card has a note/comment section where you can indicate donation is being made
in honor of or in memory of Kevin J. Collins a SMSD Alumni.