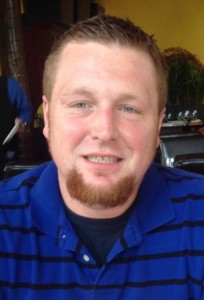 Kevin Jacob Schwamb, 33, of Texas City passed away on Wednesday, June 29, 2016 in Galveston, Texas. He was born January 27, 1983 in Houston, Texas to Jeff and Jan (Ballard) Schwamb.
Kevin served in the US Navy, was a member of St. John's United Methodist Church of Texas City and worked as a pile driver for a construction company.
He is preceded in death by his grandparents Robert and Jane Ballard.
He is survived by his parents; Jeff and Jan Schwamb; his wife Kimber Schwamb; grandparents; Herbert and Evelyn Schwamb; daughter Kaylie Schwamb and son Kellen Schwamb; brother Greg Schwamb and wife Erin and nephew Jake Schwamb, along with numerous other family members and close friends.
A Memorial Service will be held on Saturday, July 2, 2016 at 1:00pm at St. John's United Methodist Church in Texas City with Rev. Stephanie Hughes and Father Andrew Parker officiating.