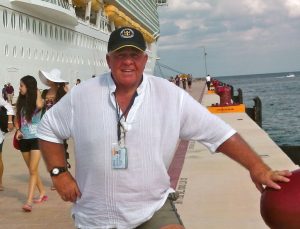 We're saddened to announce the passing of our amazing father, Kenny Lamacraft at 71 years young in Houston, TX. He was a loving husband, a dedicated father and a proud Oil man who never gave up and always gave everything he put his mind to with his whole heart.
Over the years he helped and inspired many of his friends family and colleagues. He was a great man. He was a dreamer. We will miss him more than words could ever describe. His passion for his family, hard work and his amazing personality will continue to live on through his spirit. We are so thankful to have had the honor to call him our Dad and will honor him and all the efforts he made to always give us everything even when we had nothing left to give.
He is survived by his wife of 41 years, Cristina Lopez de Lamacraft; his sons: Jason and Andrew Lamacraft; his daughter and son in law, Jenny and Lawrence Fenton; his brother, Guillermo Lamacraft and sister in law Susana Etchegaray de Lamacraft; along with their children: Willy Lamacraft (Bria, Tevis and Thiago), Pamela Lamacraft Gabert (Braden, Mya and Lincoln Gabert), and Brian Lamacraft; his brother in law, Cacho Reina; his nephews: Carlos Reina, Martin Reina and niece Malena Reina.
He's now departed to join his mother, Jessie Bain; his father, William Lamacraft; his sister, Elena Lamacraft and his nephew Guillermo Reina in Heaven.
Please join us as we say our final goodbye at a memorial in his honor on Tuesday, April 10th at 2pm at Crowder Funeral Home – 2422 E Broadway St – Pearland, TX 77581.
We kindly request your prayers for our family during this difficult time.