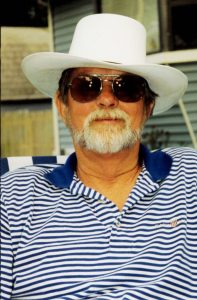 Kenneth Wolfe, 83, of Texas City, passed away Friday, January 20, 2023 in Texas City. Kenneth was born August 15, 1939 in Natrona Heights, PA to Kenneth and Ruth Wolfe.
Kenneth was a resident of Texas City since 1968 formerly from Borger, Texas. He served in the United States Navy, playing Percussion with the Drum & Bugle Corp.  He owned his own Industrial Coatings Company.
He had a true jest for life with all of his many hobbies throughout the years from dune buggies to the 100's of tropical fish aquariums he enjoyed.  He had a laughter that filled the room that was contagious.  He enjoyed telling his many stories of hilarious events that he encountered.  There wasn't anything in this world he couldn't fix or talk about with his wide array of knowledge he possessed and he never met a stranger.
Kenneth was preceded in death by his parents. He is survived by his wife of 60 years, Shirley Wolfe, daughters; Leslie Wolfe and Susan Elfstrom (Ronnie), son Scott Wolfe (Janna), his brothers Ronald Wolfe, David Wolfe (Lynn) and Dennis Wolfe (Jean), eight grandchildren; Ryan McLain, Taylor Wolfe, Emily Schroeder, Kenzie Gonzales, Megan McLain, Daniel Elfstrom, Gage Wolfe and Karley Wolfe, seven great-grandchildren; Wyet McLain, Rylan Schroeder, Lenny Collana, Caliber McLain, Owen Schroeder, Jace Gonzales and RaeLynn Graddy and numerous nieces and nephews.
A visitation will be held Tuesday, January 24, 2023 from 5:00 pm – 6:00 pm at James Crowder Funeral Home, La Marque. A funeral service will follow at 6:00 pm with Rev Matthew Brackman officiating.
Donations may be made to the Wounded Warrior Project. www.woundedwarriorproject.org.