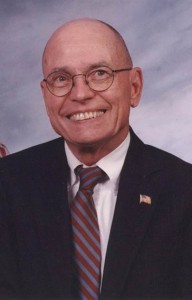 Kenneth Louis Koerber peacefully passed away at his home in League City on November 22, 2014 at the age of 81. He was born July 28, 1933 in Louisville, Kentucky. At the young age of 16, he was stricken with Polio where he spent a considerable amount of time in an iron lung and is believed to be the oldest surviving patient of the iron lung. Kenn attended the University of Louisville in Kentucky where he received a degree in Electrical Engineering and while there met his wife, Sue Render. From 1957 to 1966, he and his wife lived in California where he worked for Hughes Aircraft writing technical manuals.  Late in 1966, Kenn and his family, now consisting of three boys, moved to Huntsville, Alabama where he was employed by IBM. He transferred to the Houston, Texas area where he continued his association with IBM supporting the NASA space program. Kenn retired after 28 years of service with IBM.
Some of Kenn's many interest included photography along with building and flying both U-Control and Radio Control model aircraft.  However, his real passion was collecting and restoring antique clocks. He was a member of the National Association of Watch and Clock Collectors for 50 years. He also was an active member of the Gloria Dei Lutheran Church and enjoyed many years singing in the choir.
Kenn is preceded in death by his parents, Clement and Elma Koerber; and brother, Keith Koerber.
He is survived by his wife of 57 years, Sue Ella Koerber, and his sons, Jon Koerber and his wife, Beth; Mark Koerber and his wife, Elva; Scott Koerber and his wife, Lana. He is also survived by nine grandchildren, Mandy Winton, Rachel Bradshaw, Heather Waldrop, Kayla Koerber, Priscilla Tubbs, Nicole Connor, Olivia Koerber, Alexis Koerber and Alyssa Koerber and seventeen great grandchildren. Kenn also leaves behind his siblings, Clement J Koerber, Elma Carolyn Kennedy and Kathleen Zablocki along with numerous nieces, nephews and countless friends.
Friends are cordially invited to a visitation with family from six until eight o'clock in the evening on Friday, November 28, 2014 at Crowder Funeral Home in Webster. Funeral services will be held at ten o'clock in the morning on Saturday, November 29, 2014 at Gloria Dei Lutheran Church in Nassau Bay followed by a celebration of his life in the Life Center.
In lieu of customary remembrances, memorial contributions in Kenn's name may be made to the Gloria Dei Lutheran Church Choir.