Kenneth "Ken" David Clark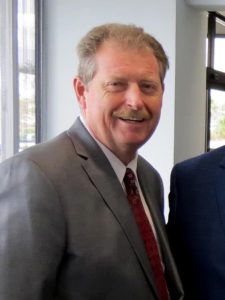 Kenneth "Ken" David Clark, age 58, of Algoa, Texas passed away peacefully on Sunday, May 8, 2022, surrounded by many members of his loving family. Ken was the devoted husband of Sherry Gavin Clark with whom he enjoyed thirty-four wonderful and fruitful years of marriage. They were married at a ceremony in West Bend, Wisconsin on April 9, 1988. Over the years, Ken and Sherry were blessed with seven children. Ken embraced fatherhood and understood that his children were his flock to shepherd. He was immensely proud of them all and looked forward to the birth of his fourth grandchild.
Ken was born in Waukesha, Wisconsin on May 21, 1963. He graduated from Random Lake High School and later obtained an Associate of Applied Science degree in Accounting at San Jacinto College. Ken built a local desktop publishing and advertising company. However, he found his true calling in public service and was honored to faithfully serve as the Galveston County Commissioner, Precinct 4 from his election in 1998 until his passing in 2022, at which time he was the county's longest serving elected official.
During his tenure, Ken represented his constituents through multiple county, regional, and statewide board positions. He worked tirelessly on important issues including lowering taxes, improving transportation, and reducing flooding. Ken was committed to constituent service and prided himself on being available and solving problems for people in need. His passion and work ethic became well-known throughout the greater Houston area. Over the years, he also became a friend and mentor to others who took on the responsibilities of public service. Ken positively impacted the lives of people throughout Texas, including the many who knew him and counted him a friend, along with countless others who benefited from his efforts though never having met him.
Ken passionately loved his family and enjoyed annual family vacations to New Braunfels, road trips to visit extended family, Houston Astros games and the HLS&R. He ardently supported his children in their athletic, academic, and agricultural competitions and endeavors. In his free time, Ken enjoyed gardening, watching UFC, and rooting for the Green Bay Packers. He had an extraordinary knack for horticulture and shared his gift with the Master Gardeners Association and anyone else who wanted to learn.
Through both the successes and shortcomings of life, though, Ken constantly reminded himself and others that "all have sinned and fallen short of the glory of God and are justified freely by His grace through the redemption that is in Christ Jesus." Romans 3:23-24. Ken's unconditional love for his family, his relentless work, and his selfless dedication to his constituents were all testaments to his faith. He tirelessly sought to promote the welfare of others throughout his life, modeling what became his well-known campaign slogan — "Working for you."
Ken is survived by his wife, Sherry, children Sarah, Charity Nelson and husband Joe with grandchildren, Joseph, Alexis, Gunnar, and Paisley, Israel and wife Sarah, Hannah, Samuel and wife Mollie, Rebekah Jones and husband Greyson, and Faith. His mother, Darlene, brothers Kevin, Mike and wife Heather, and Mark and wife RaDonna along with their families; numerous extended family members, friends, and constituents.
He is preceded in death by his father, Dennis, and his stepmother, Patrizia.
A public celebration to honor Ken's life will be held on Saturday, June 4, 2022, from 10:00am to 2:00pm at the Johnnie Orolfo Civic Center in League City.
A memorial fund in the name of Kenneth David Clark has been set up for medical and family expenses at Moody National Bank. Checks can be mailed to P.O Box 1684 League City, Texas 77574