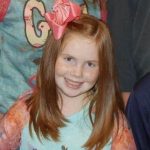 Kelsey Michelle Nalepa, of League City, passed away on Saturday, April 8, 2017 in Houston, Texas at the age of 8 years old.  She was born on July 30, 2008 in Webster, Texas to Marcus and Nicole Nalepa.  Kelsey belonged to St Mary Catholic Church in League City.  She loved her family, her friends and her sports, including softball, basketball and soccer. She also cherished activities at school such as Ukulele Club, Character Crew, and Running Club.  Kelsey was in the gifted and talented program and enjoyed playing the piano.  She was a bright light to everyone who knew her.  She never met a stranger.  Kelsey will be deeply missed by all.
She was preceded in death by her grandfather James and uncle Rusty.  Kelsey is survived by her parents Marcus and Nicole, brother Kellen, grandparents Glynn and Loretta Myers and Cheryl Simmons, aunts Lauren Nalepa, and Michelle Truax and husband Jeremy, their children Taylor and Kylie, aunt Mary Robinson and husband Gary, their children Ashley, Alison, and Kyle, uncle Mark Simmons and many other loving family and friends.
The Family will receive friends on Tuesday, April 11, 2017 from 4-8:00pm with a Vigil Service at 7 o'clock at St. Mary Catholic Church, 1612 East Walker, League City, Texas 77573.  A Funeral Mass will follow on Wednesday at 10:00am at St. Mary Catholic Church with Father Howard Drabek officiating.  Interment will take place at Mount Olivet Catholic Cemetery in Dickinson, Texas.  In lieu of flowers, you may send memorials to League City Girls Softball Association, P.O. Box 1662, League City, Texas 77574 or League City Little League, P.O. Box 367, League City, Texas 77574.  The Nalepa Family hopes you will join them in wearing your favorite purple casual attire in honor of Kelsey's favorite color.