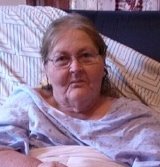 Katherine Theresa Booher, loving mother and grandmother and great grandmother went to be with the Lord Monday, February 23, 2015 at her residence in Texas City. She was born May 12, 1948 in Coronado, California to Jack and Ruby Dalton.
She enjoyed making jewelry and drawing.
The loves of life were her grandchildren and great grandchildren.
She is preceded in death by her parents; Miguel Wayne Overbay, Steve Linko, Thomas Wayne Overbay, Jimmy Lain and her sister Grace Flowers.
She is survived by her four daughters; Tammy Hutson (Randal Greer), Tina Gleason (Larry), Amber Quintanilla (Timothy Young), Kaila Booher; two sons; Thomas Overbay and Robert Overbay(April); sister Frances Winter, brother Jack Dalton; (21) grandchildren and (15) great grandchildren.
A visitation will be on Friday, February 27, 2015 from 10:00am – 2:00pm at the James Crowder Funeral Home in La Marque. A Celebration of Life will be at 4:00pm on Friday, February 27, 2015 at Heritage Square 520 3rd Ave North Texas City, Texas 77590.